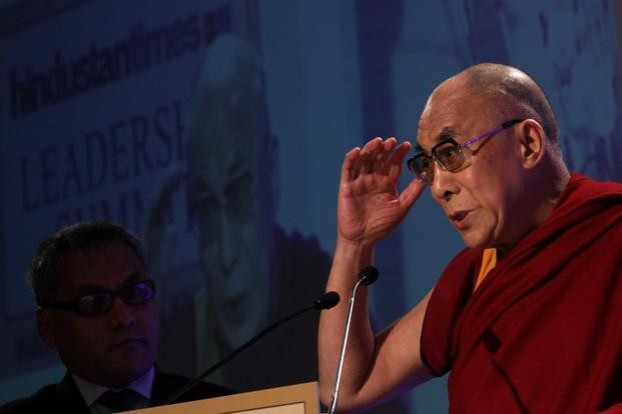 The Dalai Lama has waded into the political storm over misogyny in Australia, holding out the possibility that, for the first time in history, his successor could be a woman.
"If the circumstances are such that a female Dalai Lama is more useful, then automatically a female Dalai Lama will come," said the Tibetan spiritual leader as he began a 12-day tour of the country.
"Biologically, females have more potential. Females have more sensitivity about others' well-being."
The 77-year-old monk made his remarks in the wake of accusations an Australian opposition leader made a "grossly sexist and offensive" insult against Gillard.
A leaked menu from a recent fundraising dinner for Liberal National Party candidate Mal Brough, a former cabinet minister, revealed an item described as "Julia Gillard Kentucky Fried Quail - Small Breasts, Huge Thighs & A Big Red Box".
Responding to questions, the Dalai Lama sought to sidestep the issue, confining his remarks to his own family. But his response was hailed as planting him firmly in the camp of labor leader Gillard.
"In my own case, my father - very short temper. On a few occasions I also got some beatings. But my mother was so wonderfully compassionate," the Dalai Lama said.
The Nobel Peace laureate, who will visit Sydney, Melbourne, Adelaide and Darwin, added that the world faced a "moral crisis" of inequality and suffering, and needed leaders who could bring compassion to their task.
Earlier this week, Gillard accused opposition leader Tony Abbott of a "pattern of misogynist behaviour", and warned that the "men in blue ties" - as Australian centre-right politicians are known - would seek to marginalise women and undermine abortion rights if her party were to lose power in general elections set for September.