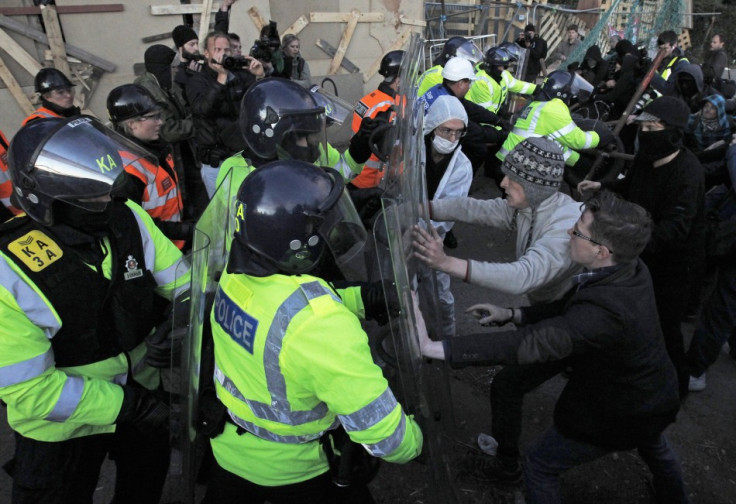 Basildon Council has warned travellers returning to illegal plots on the Dale Farm site that they could face prison.
"Any attempts of travellers to reoccupy the site will be unacceptable and will put them in contempt of court that could lead to a prison sentence," said council leader Tony Ball.
It has been discovered that 10 caravans had illegally returned to Dale Farm, just days after a multi-million pound clearance operation by bailiffs and the council finished.
Basildon Council got a High Court injunction preventing travellers moving back on to green-belt land at Dale Farm, after some threatened to return.
Ball also issued a warning to those still on the legal plots at Dale Farm, saying the council will be "looking carefully at any breaches".
"The travellers are fully aware of how many caravans and mobile homes they can have on any one site. They must not exceed this and if they do we will be taking action," he said.
"The only way forward to the travellers in the long term is to obey the law, follow rules and regulations and cooperate with local councils like ours.
"If the law is being broken, we will continue to enforce, as we would with any member of the community and as the public expect us to do.
"Prosecution against law breaking is not persecution - it is right and proper and we will follow this course of action wherever it is deemed appropriate."
One traveller at the site who says he is allowed to be there, Patrick Egan, told BBC News that they "fully expect" to be served notices telling them to leave.
"If that happens, we will occupy car parks and roadsides in Basildon, anywhere that we can get access to," he said.
"The council simply hasn't provided anywhere else for us to go."
Critics of the eviction say it breaches the travellers' human rights, as well as slapping the taxpayer with a massive bill for removing them.
The decade-long Dale Farm dispute over unauthorised planning for 51 of the plots on the travellers' site erupted in October as Basildon Council, assisted by bailiffs and the police, evicted the tenants without permission to be there.
Clashes between police and protesters, who had amassed at the site in the days leading up to the eviction, resulted in two people being tasered and several arrests.