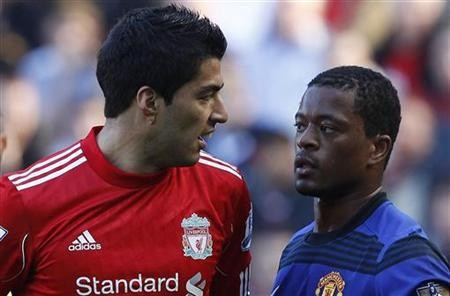 Liverpool manager Kenny Dalglish has urged the Football Association to conclude their investigation into the alleged racism by Luis Suarez against Manchester United fullback Patrice Evra as quickly as possible, reiterating his stance that the guilty perpetrator should be punished.
Last month in the aftermath of Manchester United's keenly fought 1-1 draw at Anfield, Evra claimed the Uruguayan international racially abused him on several occasions; an allegation that Suarez and his club vigorously deny.
A lack of television footage to support the aforementioned Frenchman's claims has led to further evidence being explored and although both parties have been interviewed, the investigation remains on-going and is unlikely to be concluded this week.
Despite the sensitive nature of the allegation and the severity of Suarez's alleged comments, Dalglish is anxious to see a satisfactory but ultimately swift conclusion to the investigation, indicating he would like to see Evra punished if the left-back's allegations are deemed unfounded.
"The FA have been here and spoken to us," Dalglish told the Daily Telegraph.
"Our philosophy and desire has not changed whatsoever - we want it resolved as quickly as it possibly can be and want the perpetrator punished.
"I don't think we need to add any more than that."
The Evra-Suarez incident has coincided with Chelsea and England captain John Terry's highly publicised alleged abused of Queens Park Rangers defender Anton Ferdinand, raising concerns English football has a prevalent racism problem.
Despite the separate incidents, Dalglish suggested last month that racism was not widespread in British football and certainly was not a problem at Liverpool.
"I don't think it is prevalent in the game here, and it certainly isn't at this football club." Dalglish said. "For me, I don't see racism as far as this football club is concerned, apparent in any way, shape or form.
"We have got a case going on ourselves which seems to be dragging its feet.
"We would rather have it done and dusted, out in the open and whoever is the guilty party, whether it's the person who said it or the accuser, get their due punishment.
"We look forward to the case coming to a conclusion."