Twenty-nine people have been killed and 103 people injured after two huge blasts hit the Damascus, Syria's capital, according to the Syrian health ministry. The explosions happened at approximately 8 a.m. local time, at a time when employees are usually arriving at work.
"Qazaz intersection [southwest of Damascus] is most densely populated at 8 a.m., which is around the time the twin suicide bombings took place. #Damascus #Syria," tweeted journalist and Lebanon Press TV analyst Hosein Mortada.
Syrian television blamed terrorists for the rush-hour blast and showed graphic pictures of dozens of burnded and smouldering vehicles at the site of one of the blasts. Some of the vehicles contained charred bodies.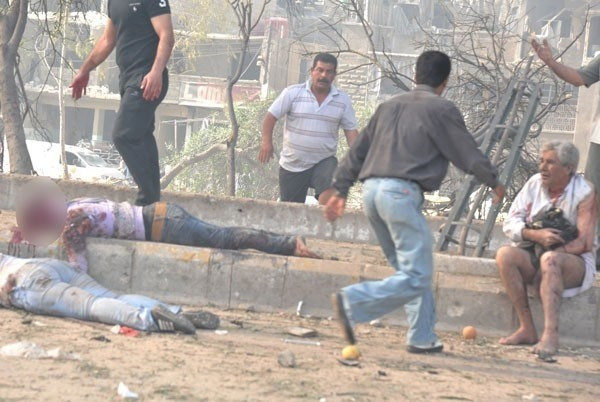 The word "terrorist" is often used by the state-tun television to stigmatise opposition fighters. But Syrian human rights activist Haitham al-Maleh blamed the government for the bombings. Other anti-Assad activists have posted pictures of shelling in Homs by security forces stressing the similarity with the latest scenes in Damascus.
"This is in Qusour #Homs caused by Assad bombing somehow confirms the similarity with #Damascus today #Syria," tweeted an activist.
After the blast, bystanders tried to free bodies from the wreckage of the vehicles and extinguish fires. The UK-based Syrian Observatory for Human Rights said the explosions occurred at a security force base in the capital.
One resident told Reuters he saw broken glass on the street and women crying. Another resident said police had cordoned off the Kfar Souseh district, where a military intelligence complex is based, and were firing automatic rifles into the air.
Damascus is firmly under the control of forces loyal to embattled Syrian president Bashar al-Assad but has been hit by several bomb attacks. The last explosion in the capital was on 27 April when a suicide bomber detonated his bomb near members of the security forces, killing at least nine people and injuring 26 others.
UN head of mission Gen Robert Mood will be visiting the site of the explosions.