Dan Carter: New Zealand hero reveals pre-Rugby World Cup retirement U-turn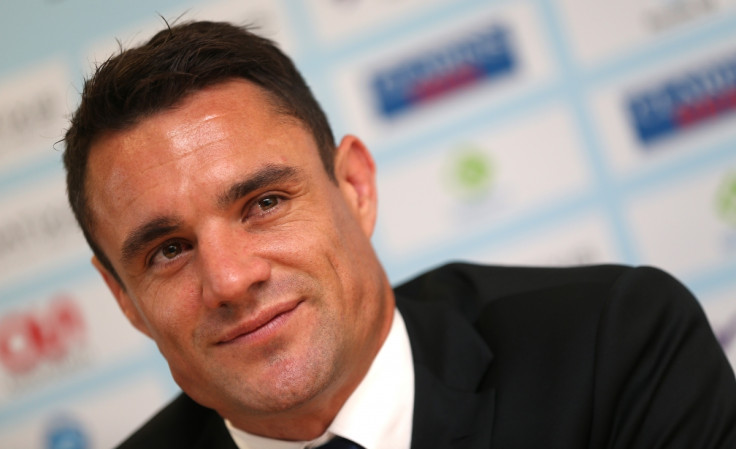 New Zealand's Rugby World Cup hero Dan Carter made a dramatic U-turn on a decision to retire from the international game just 15 months before the showcase tournament – prior to inspiring the All Blacks to victory over Australia. The 33-year-old questioned his own ability less than two years out from the tournament after suffering a broken leg and was ready to hang up his boots before a late intervention from wife Honor.
Carter picked up the injury in the Super Rugby Final in 2014 but returned to the international fold less than two months later. In October, Carter produced a match-winning display to inspire the All Blacks to a record second successive World Cup with 19 points in the final against the Wallabies including a magical late drop goal.
But while recovering from the leg injury, Carter – who missed the 2011 World Cup final through injury – questioned his ability to recapture his best form in time for the event on English soil. However, discussions with Honor, herself a former Commonwealth hockey player, convinced him to change his mind.
"Two weeks before I was scheduled to make my first Test match appearance back with the All Blacks, I broke my leg," Carter, who has begun his career with Racing Metro, told The Players' Tribune. "After spending six months dedicated to rebuilding myself, I was back where I started. By that point, we were 15 months away from the Rugby World Cup and it was clear that I was at a place where I had neither the health or the form to be part of it. For the first time in my life, I began to question my love for this sport. I questioned whether my body could handle it anymore."
Pondering the future
Carter continued: "The critics who had been going on about my age started making more sense to me. All those big plays I'd made during my career seemed like memories now. And I began wondering what kind of legacy I'd leave behind if I were to announce my retirement right then.
"I probably could have slipped away from the game, and I don't think anyone would have thought less of me for it. So I spent a lot of time that summer pondering my future and what was next. I was fortunate to have a wife who played hockey for New Zealand, and had a deep understanding of my personal feelings as well the psychology of sports.
"I would tell her that I wanted to retire, that I didn't think I had the talent anymore. She was my rock and my sounding board during this time, and despite my arguments, kept encouraging me. If it wasn't for her and my love for the All Black jersey, I'd probably have long since hung up my cleats.
"But I stuck with it, even though it was a struggle. One day, I'd be confident and feeling good, and the next day I'd be thinking about how I'd go about announcing my retirement. After going back and forth on it for a few weeks, I made the decision to announce that I would end my career with the All Blacks after the 2015 World Cup."
© Copyright IBTimes 2023. All rights reserved.