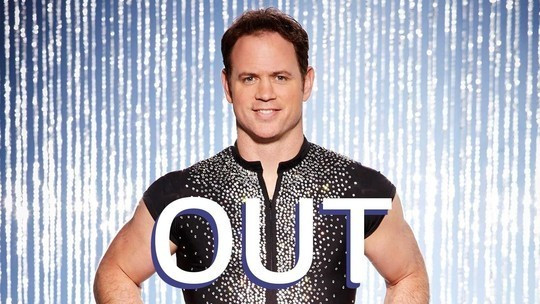 It was a tale of two skating stars on Dancing on Ice, as Ray Quinn earned a perfect score and Kyran Bracken's skated off the show in a thrilling quarter final.
Leaving with a personal record best, the 2007 champion said: "To finish off on our best ever skate was fantastic and all I can say is thanks to the people who have been keeping us in. Good luck to the great skaters out there. And it's not over yet as we'll be skating again on tour."
Hinting at the celebrity who he thinks will be voted the ultimate skating champion he commented: "I honestly think you've got some great skaters out here and it's not a done deal who the winner is."
Bracken had a lot to prove after surviving a tense skate-off with Suzanne Shaw last week and he decided to let his personality shine through in a comic performance to the Disney song I wanna be like You from The Jungle Book.
With professional dance partner Nina Ulanova wearing a matching tuxedo, the two almost perfectly executed their jungle jive.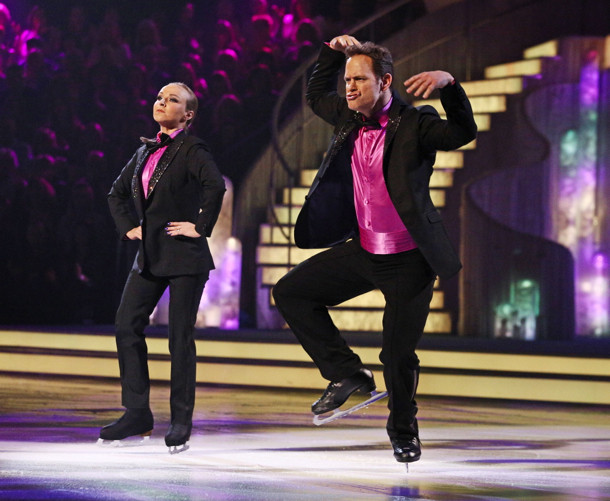 Speaking about his performance he said: "I really enjoyed it because I have to act like an ape on the ice and sometimes that's what I feel like and its interesting because my performance marks are going up while my skating scores are staying the same."
The routine won them a 9 from Jason Gardiner whosaid: "You're improving – you're starting to hit your stride and bring it together. But you need to maintain a characterization all the way through, which you struggled with."
Ashley Roberts praised Bracken while recognising his rugby roots. "You've had the biggest evolution as a rugby player."
But it clearly wasn't enough as Bracken battled it out with Attwater in the dreaded skate off after the two stars found
themselves on the bottom of the leader board after the judges' scores and public votes were combined.
Bracken performed to 'Chasing Cars' by Snow Patrol for his last dance, while Attwater performed a Riverdance-inspired routine, with the judges unanimously voting to save Attwater.
While Bracken made his exit, it was Ray Quinn's night, as the skater won a perfect forty from the judges, for the third time in his history on the show.
Performing a solo routine in a sparkly purple leotard, the skater set the ice on fire with a steamy performance to Prince's Kiss.
"I wouldn't mind a little extra time and your kiss," said a flustered Gardiner. "We're absolutely in awe of what you can do. It's an absolute pleasure to watch you skate. I look forward to seeing you every week."
Robin Cousins, joked that the performance had left his fellow judges hot under the collar.
"That was spectacular. It oozed everything that it needed to. You also played with audience and the judges."
Roberts added: "Oh honey pie it's toasty over here. You were in the movement and I enjoyed it."
Quinn had earlier just missed out another perfect score winning 39.5 for his routine with professional partner Maria Filippovto One Republic's Counting Stars.
Gardiner, the only one of the four judges not to have awarded the pair a 10, explained his score saying: "It's a brilliant score and I think Ray will agree with me it wasn't perfect. There were a couple of synchronicity issues. There's a difference between being rugged and polished, but tonight there were a few little things and that's why it was not a ten."
Karen Barber who is frequently at odds with fellow judge Gardiner said: "little things were wrong but there was lots that was right."
The show continues on Sunday 2 March at 6.15pm on ITV, with the remaining celebrities Sam Attwater, Ray Quinn, Hayley Tamaddon and Beth Tweddle battling it out for a place in the semi-final.