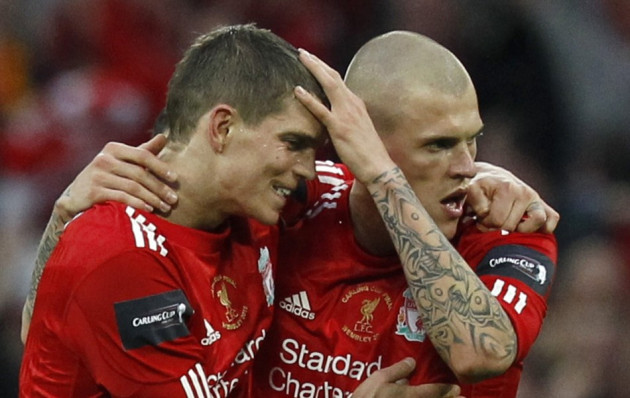 Liverpool pair Daniel Agger and Martin Skrtel have rocked the club on the eve of the Merseyside derby against Everton by claiming they both thought about leaving Anfield in the summer transfer window.
The duo have played an integral part of the Reds defence of late but have sporadically fallen out of favour with manager Brendan Rodgers since the Northern Irishman was appointed last summer.
Agger was subject to a bid from Barcelona in the summer but the move was rebuffed by Liverpool and the Danish defender says he was tempted by the move to the Nou Camp.
"I think you are always tempted when stuff like that happens," Agger told The Times. "You would not be human not to be, but I keep to my principles.
"If I have a contract here for two or three years and the club want me to stay, then I stay with them because, when I signed that deal, that's what I told them - that I'd be here for four years. I can't just turn around and say I don't want to be here anymore.
"It might have been different if the club had said it was in the best interests of both of us to go our different ways.
"In that case Barcelona would have been the best place to go, without a doubt, but the club came to me and told me they wanted me here.
"I'm not saying I wasn't tempted, because anyone would be in that situation, but for the club to say that to me was enough.
"I am happy here and my family is happy here also and that's a good combination."
Agger began the season as first choice in the Liverpool defence but since suffering a rib injury in the defeat to Southampton has failed to break back into the first team on a regular basis.
Skrtel however has been a mainstay in the Liverpool back four this season since recovering from a knee injury, starting the club's last nine league games.
But the Slovakian centre back, who was linked with a move to Napoli to re-join Rafael Benitez who originally brought him to Merseyside in 2008, admits he was close to leaving Liverpool after he ended last term down the pecking order.
"When you are not playing, everything goes around your head," Skrtel told The Daily Mail.
"I won't lie. I thought about leaving. But there was something else to think about: I have been here nearly six years. My family like the city and we are settled.
"To leave would not be easy. I said to myself, 'I will fight'. I wanted to show everyone I can play. The competition is helping everyone. I am back in the team and doing everything possible to stay there. Liverpool are still one of the biggest clubs in the world.
"When you play in front of the fans at Anfield, it is unique. I wanted to stay. I am happy I did."