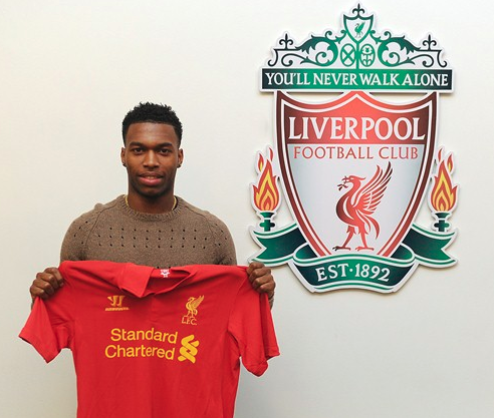 Liverpool have made their first acquisition in what is expected to be a busy January transfer window after announcing that they have signed Daniel Sturridge from Chelsea on a long-term deal.
The 23-year-old signed a contract at Liverpool's Melwood training centre and quickly spoke of his joy at completing the move.
"I am humbled and happy to be here," Sturridge told Liverpoolfc.com. "Brendan Rodgers said he sees me here for a long time - and I also see myself here for a long time. I've not signed here to play for a couple of years and then move on.
"I've signed to be here for as long as possible. It's a humongous club - for me, one of the biggest in the world - and to have the fans and world-class players we have here is amazing."
Sturridge moves to Liverpool after a frustrating six months at Chelsea where his first team chances had been severely limited. He made just seven league appearances and scored one goal as he failed to force his way into the plans of first Roberto Di Matteo and then Rafa Benitez.
Having started his career at Manchester City, Sturridge enjoyed his best spell at the start of last season as he excelled under Andre Villas-Boas but his chances became limited once Di Matteo was appointed.
Sturridge is now hoping that he can form a successful partnership with Liverpool forward Luis Suarez who has been in sensational form so far this season.
"To have him as a teammate is great. He's a very good player, very talented and rated as a one of the best players in attacking positions in the world right now. It's good to be part of a team with him in and I'm sure we'll be able to play well together," continued Sturridge.
Sturridge admits that he is bitterly disappointed to miss tonight's game against Sunderland, but he will be watching from the stands as Liverpool look to build on their good result over QPR.
Sturridge added: "It's very frustrating not being able to play because the window opened yesterday. I would have loved to have been involved and it's unfortunate I'm not able to, so I'll be watching from the stands, cheering the boys on and hopefully we can get a result."