Daniel Sturridge is 'too good' not to be playing regularly and will 'definitely' leave Liverpool this summer, according to former Reds midfielder Danny Murphy. Sturridge has not established himself as an important player under Jurgen Klopp at Anfield and has only started five times in the Premier League this season.
Murphy, who played over 250 games during his eight-year spell with Liverpool, praised Sturridge's 'wonderful ability' but thinks his former club will allow him to leave Merseyside at the end of the season.
"I can't see why Liverpool would let him go now, and I don't think they will, but in the summer I think he'll definitely be gone." Murphy told talkSPORT. "He's too good a footballer not to be starting week in, week out. There's no doubt when he plays and when he starts he is a match-winner. He has that wonderful ability to create space where there isn't any with his great feet.
"He's got a confidence and arrogance which is rare - he plays the same whether he's scored 10 in 10 or none in 10. He still tries the same shots, the same skills and he has complete belief in his own ability."
Roberto Firmino and Divock Origi have both been preferred over Sturridge this season as they are seemingly more adept at carrying out Klopp's instructions. Firmino developed a very productive partnership with fellow Brazilian Philippe Coutinho and Sadio Mane in the early stages of the season while Origi has scored four goals in just six league starts for Liverpool.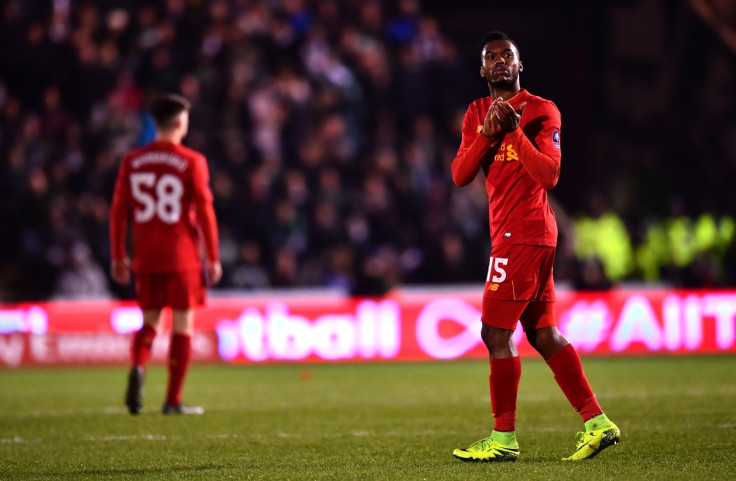 Murphy was keen to stress that Sturridge's attitude towards Klopp's footballing philosophy was not an issue but thinks the style of play the Liverpool boss has implemented is simply "not in his nature".
"The reason he doesn't start we all know, he doesn't press and work as hard as Klopp expects," Murphy added. "It's very simple. I don't think that's about his attitude, some players just play a certain way. It's not in his nature, he's a very reactive striker and [Klopp's pressing regime] is not something that comes to him easily."