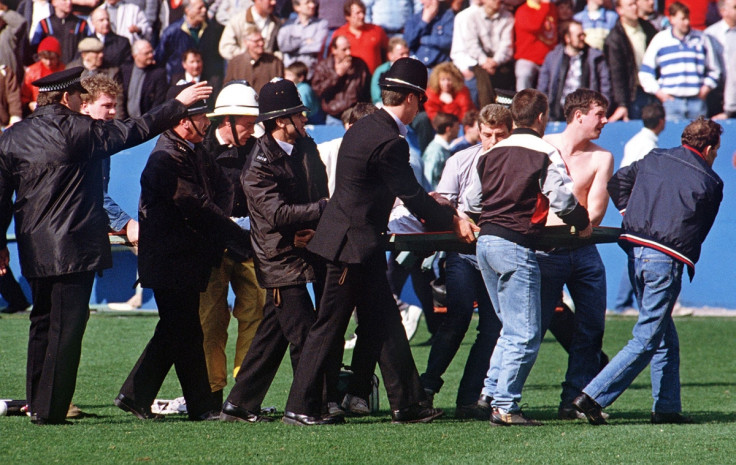 The UK saw an 22% increase in homicides last year when taking into account the decision of the Hillsborough inquests which ruled 96 Liverpool fans were "unlawfully killed", according to figures.
The Office of National Statistics (ONS) showed police recorded a total of 695 homicides in the year ending September 2016, up more than a fifth from last year's figure of 570.
However, this figure includes the deaths of the 96 people who died in a crush in the terraces in the FA Cup semi-final between Liverpool and Nottingham Forest on 15 April 1989 following the conclusion of the inquest.
The original inquest verdict of accidental deaths was quashed following the release of the Hillsborough Independent Panel report in 2012.
Excluding these cases involved in the Hillsborough inquest, which ended in April 2016 after hearing evidence for more than two years, the number of homicides in the UK increased by just 5%.
Overall, the rate of homicide – which include the offences of murder, manslaughter, corporate manslaughter and infanticide – in the year ending September 2016 the rate is 12 per million. Excluding the 96 Hillsborough cases, the rate remains at 10 homicides per million population.
Elsewhere, The Crime Survey of England and Wales (CSEW), estimated there were 11.8 million incidents of crime in England and Wales in the year to September after fraud and cyber offences were included in the total for the first time. This figure includes 3.6 million fraud and two million computer misuse offences.
If you remove the online offences from the figure, there was an estimated 6.2 million crimes recorded last year, a "statistically significant" change compared with the previous year.
John Flatley, head of ONS crime statistics and analysis, said: "In its 35-year history, the crime survey has charted changing trends in crimes experienced by the population. In the past burglary and theft of vehicles were the high-volume crimes driving trends but their numbers have fallen substantially since then. When the CSEW started, fraud was not considered a significant threat and the internet had yet to be invented.
"Today's figures demonstrate how crime has changed, with fraud now the most commonly experienced offence. However, it should be emphasised that the new headline figures, including fraud and computer misuse, are not comparable with those from earlier years."