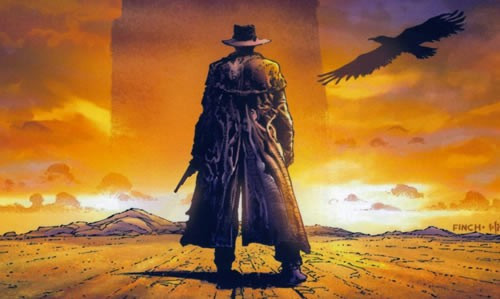 Fans of Stephen King's epic Dark Tower fantasy series have been disappointed again with the news that Warner Bros has passed on Ron Howard's ambitious film adaptation.
Howard has been battling to get momentum behind the project for months, with high-concept hopes for a trilogy of films linked by television series.
Initially the project was pitched to Universal Studios, with Javier Bardem linked to the lead role of the mythical gunslinger Roland Deschain.
However Universal passed on the project, which represents a considerable financial commitment and risk. Howard and his producer Brian Grazer then turned their attention on Warner Bros, while it was thought that Russell Crowe would take on the lead role.
But Warner Bros has again punctured the hopes of devotees of the seven book series, deciding not to proceed with the adaptation. Howard and grazer's Imagine Entertainment will still have the option to take the project to another studio, but the herd is thinning.
Intimidating
As the recent box office failure of John Carter, an adaptation of a much-loved science fiction novel, displayed, a devoted following for a book does not necessarily represent guaranteed box-office success.
Nonetheless, Hollywood has recently revelled in literary adaptations, with a tried and tested story, as well as a pre-prepared audience, making a project more attractive to a studio.
However, even within that trend, the Dark Tower books would require a serious studio commitment, on the scale of Peter Jackson's Lord of the Rings trilogy. In Jackson's case all three films were recorded together, meaning the success of the whole series depended on the reception of the first film.
King's story, which many of his fans consider to be his masterpiece, covers the quest of Deschain, a gunslinger who is accompanied by a small group of companions in a quest to reach the Dark Tower, the central spindle of the world's multiple dimensions, as it comes under threat.
Throughout his series of, often epic, novels, King has covered high fantasy, science-fiction, horror and spaghetti western tropes. Any adapation would be visually spectacular, but would not come cheap. A series of films connected by television series would require substantial commitment by an audience and the project's repeated stumbles suggests studios lack the faith that an audience will be maintained.
Howard will undoubtedly make other attempts to picth the project, but until he finds a studio ready to take a blind leap of faith, it appears the Dark Tower will stay on the page.