David Attenborough, Slash and Brian May have teamed up with a host of other musicians to record a single protesting against the government proposed badger cull.
Badger Swagger was recorded by arts and entertainment company the Artful Badger. It was launched ahead of a parliamentary debate and vote about the badger cull, the pilot for which has already begun in west Somerset and west Gloucestershire.
The single was recorded to raise awareness of the issues surrounding the cull. The group contacted Brian May, who launched the original government petition to stop the cull, inviting him to be a guest artist on the track.
More and more celebrities soon got involved, including Guns N' Roses guitarist Slash and veteran broadcaster and naturalist David Attenborough, who leads the spoken word part of the track.
Attenborough's lines read: "So the government instituted a major inquiry to establish scientifically the facts. That involved culling 11,000 badgers and the results by the government adviser to that independent scientific group were that culling was not a viable policy option."
Badger Swagger also features Massive Attack founder Shara Nelson and British rapper Sonny Green, who said he feels "ashamed" the human race could condone the cull, adding that it is "primitive, unscientific and disgraceful".
The project was started by music producer Rob Cass, who said: "To me all nature is beautiful. This track is my humble contribution to stopping the needless slaughter of badgers.
"I met the Artful Badger team on a demonstration to stop the cull a few months back and we decided the best way we could help was to do what we do best, make music.
"We reached out to Brian May, Slash, Shara Nelson, Sam and The Womp, Sonny Green and lastly the wonderful David Attenborough, all people who care about animal welfare to contribute and they all did so happily and bringing their fabulous talents to the table. I'm very proud indeed to be a small part of this incredible team."
Charlotte Pulver, producer at Artful Badger, spoke to IBTimes UK about how Badger Swagger came together. The group was approached by Cass who had seen them dancing in a flash mob outside parliament.
Artful Badger then got in touch with Green, who Pulver said was "the only rapper who could rap about badgers". She said they had wanted a hip hop song to get a political message across to young people and then decided they needed a rock element, so got in touch with May over Twitter.
"He got back in two seconds and said he wanted to hear it. He said he really liked it because it's aimed at a young demographic but didn't like the chorus. He sent through a file of lyrics and said he could get on board."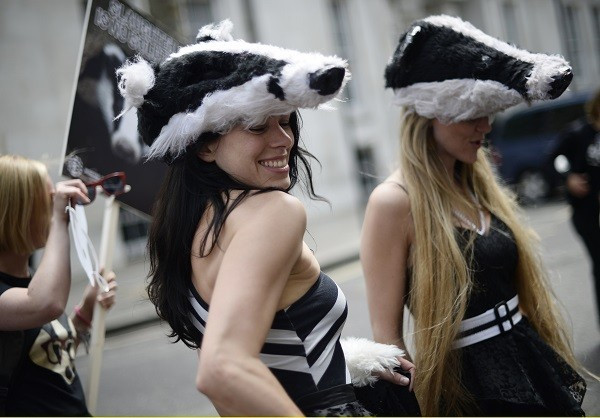 Attenborough's part of the song was not recorded in the studio, Pulver explained - it was a sound bite taken from a film about the cull. "He is very very busy and doesn't do email - we had to write a letter. But we needed the go ahead within 24 hours. He responded immediately and said 'of course', which is amazing - we got a letter back."
After that they contacted Slash, who also agreed within a day to get involved. Since its launch, Pulver said the track has been downloaded a lot, viewed on YouTube, played on the radio worldwide and by MTV Canada.
So far, almost 250,000 people have signed the petition to stop the badger cull. Last October, MPs voted overwhelmingly to stop the cull from going ahead after the government was forced to postpone it due to bad weather.
However, the vote was not legally binding so the cull could go ahead regardless. Last week Labour has requested a parliamentary vote - the outcome of which is also not binding.
Speaking about today's vote, Pulver said: "The whole scientific community is against it, there have been so many reports saying the cull is going to make things worse.
"The public don't want it, parliament don't want it. With today it will be really interesting - if parliament votes no again, the government has the option to go forward on its own, but against evidence and support."
On 1 June, over 1,000 people, led by May, marched against the cull and handed their petition to Downing Street. Badger Swagger is available to buy on iTunes.