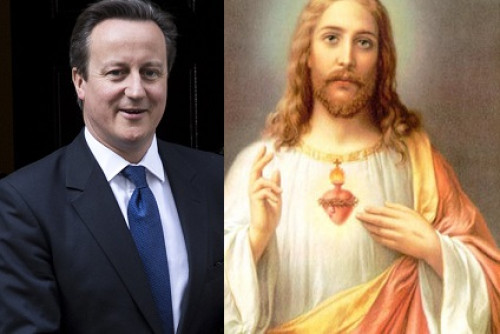 David Cameron has claimed Jesus Christ started the government's Big Society policy 2,000 years ago and he is merely continuing his work.
Speaking at an Easter reception at 10 Downing Street, Cameron told an audience of Christian leaders and politicians the social work of churches was similar to the Tory party's 2010 manifesto.
"Jesus invented the Big Society 2,000 years ago; I just want to see more of it," he said.
The prime minster was also said to have had no comment on the choice of hymn sung by a soprano at the reception – Ave Maria – performed on the same day the former culture secretary Maria Miller resigned over her expense row.
"The Bible tells us to bear one another's burdens," he said. "After the day I've had, I'm definitely looking for volunteers."
Cameron made several references to his faith during his address, even referring to Jesus as "Our saviour". This is in stark contrast to previous prime ministers, including Tony Blair, who only began speaking about his belief in God after he left government.
He also paid tribute to Mark Abrey, the local vicar at his electoral district of Witney as "the person who looked after me", following the death of his son, Ivan, in 2009.
"I can't think of anyone who was more loving or thoughtful or kind," he added.
The event came after Cameron was forced to defend his actions over the Miller expenses affair. There were continuing calls for her resignation after she was found to have over claimed £45,000 worth of expenses, but she was frequently backed by Cameron
After Cameron was criticised for allowing her to remain in her role, he told the House of Commons: "I thought it was right in those circumstances to allow her to make her apology and continue with her job.