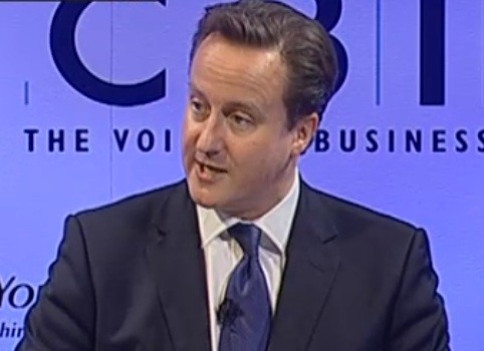 David Cameron has promised to throw out the "bureaucratic rubbish" in Whitehall that he says is blocking big infrastructure projects and hurting growth, in a speech at the annual conference of Britain's biggest business lobbyist, the Confederation of British Industry (CBI).
The prime minister bemoaned the consultation culture across government departments, as well as the reams of red tape - including European Union rules - holding back British businesses.
Cameron sees stripping out bureaucracy as a cheap way of stimulating growth in the country's stalling economy, without having to compromise his coalition government's staunch position on fiscal austerity as it attempts to reduce the deficit in public finances.
"When this country was at war in the 1940s, Whitehall underwent a revolution. Normal rules were circumvented. Convention was thrown out," he told the CBI conference.
"As one historian put it, everything was thrown at 'the overriding purpose' of beating Hitler. Well this country is in the economic equivalent of war today - and we need the same spirit.
"We need to forget about crossing every 't' and dotting every 'i' - and we need to throw everything we've got at winning in this global race."
The government has already pledged to review planning laws to try and remove some of the legal and regulatory obstacles facing infrastructure work, in the hope that this will stimulate construction sector activity, which has been in terminal decline since the end of 2011.
There has also been a multi-billion pound push for an upgrade of the rail network by the government, as well as tens of thousands of new affordable homes to be built, and a nod to the future of the energy industry with plans for a new generation of nuclear power plants to be built.
Cameron pledged to make it harder for opponents of projects to call for a judicial review, a costly and time-sapping legal process often used by campaigners as a last attempt to block projects they do not want.
"So here's what we're going to do," said Cameron.
"Reduce the time limit when people can bring cases, charge more for reviews - so people think twice about time-wasting, and instead of giving hopeless cases up to four bites of the cherry to appeal a decision, we will halve that to two."
In an increasingly competitive global business world, Cameron wants to give Britain the edge over its rivals, particularly those seeking trade in lucrative emerging economies.
"Every day the people in this room are fighting to win contracts in Indonesia, India, Nigeria. Every week you step off aeroplanes in the south and east and feel the pace of change there," he said.
"You know what the global race means because you're living it. And I'm here today to tell you this government gets it."
On the EU, Cameron has been accused of isolating the UK from discussions after he vetoed a treaty change at the end of 2011, which was to set tough new budget rules as a means of tackling the area's sovereign debt crisis, that the overwhelming majority of other European leaders had agreed.
He said the treaty changes were not in the UK's interest and so he could not back them.
However, before Cameron took the stage at the CBI conference, one of the lobby group's senior leaders urged politicians to maintain and improve the country's relationship with Europe.
"Whilst looking for new partners, we must not forget old friends. Europe, however challenged, remains home for half our exports," said CBI president Sir Roger Carr in his conference speech just ahead of Cameron's.
"It's like many relationships - can't live with you, can't live without you - but somehow the partnership survives.
"Whatever the popular appeal may be of withdrawal, businessmen and politicians must keep a bridge firmly in place.
"As countries of Europe bind together in pursuit of salvation - we in the UK must work harder to avoid the risks of isolation.
"Europe is the bedrock of our international trade. It should be viewed as the launch-pad from which our global trade can expand - not the landmass from which we retreat."
Business secretary Vince Cable said one of his biggest priorities as a minister is to make sure there is a constant flow of skilled engineers into the British economy
"Time and again, large manufacturing companies come to my department and tell me they are worried about looming shortages of skilled engineers," Cable told the CBI conference hall.
"It is one of my major priorities as business secretary to address this problem."
He said that more investment is going into training budding engineers.
"The ultimate aim is to nurture a thriving innovation ecosystem which attracts the most talented people to careers in engineering and science," he said.