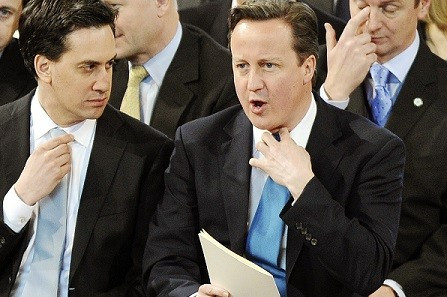 David Cameron accused Ed Miliband of letting down the US and siding with Russia by opposing military involvement in Syria, according to Labour sources.
The prime minister is believed to have made the hostile claims about the Labour leader in a phone call a day before MPs voted in the House of Commons on whether to intervene in Syria, according to the Guardian.
Cameron is reported to have told Miliband he was "letting down America" and "siding with" the Russian foreign minister Sergei Lavrov - an ally of Bashar al-Assad - by not supporting the government's plans for military intervention.
A Labour insider also told the Guardian that the relationship between Miliband and Cameron had begun to break down following claims that a Tory source told the Times that No 10 and the Foreign Office regarded Miliband as a "f*****g c**t" and a "copper-bottomed s**t".
"Ed wasn't angry, he was frustrated by the flippancy of it," the Labour source said.
Miliband is said to have previously supported military action in Syria over allegations of a chemical weapons used on the people of Ghouta outside Damascus but changed his mind to allow weapons inspectors more time to gather evidence.
But Labour sources said Miliband never agreed to back Cameron and merely said he would discuss the options with his party.
Despite parliament voting in the Commons 285 to 272 against military action, Cameron said he would still push for a "robust response" against the Assad regime.
He added: "It's important we uphold the international taboo on the use of chemical weapons.
He added that he wanted to approach the situation in Syria "in a different way to previous prime ministers" with the Tony Blair-led war on Iraq in 2003 having "well and truly poisoned" public opinion on future conflicts.
READ:
Syria: 'Napalm-Like' Bomb Dropped on Aleppo Playground Kills Many Children [VIDEO]
David Cameron a 'Lame Duck Leader' after Historic Syria Defeat [VIDEO]
Assad's Son Hafez, 11, Goads Obama on Facebook to Attack Syria
Syria Strike Could Happen within Week, Says Francois Hollande
Syria Crisis Debate: Ed Miliband's Finest Hour?
European Markets Mixed After UK Parliament Rejects Syria Action