Number 10 have admitted photoshopping a poppy onto a picture of David Cameron on the official Downing Street Facebook page. The embarrassing social media gaffe came to light after eagle-eyed Twitter users spotted the suspicious looking image after the account's profile picture was updated.
A Downing Street spokeswoman told IBTimes UK: "It was an oversight by a member of the team and a new picture has been put up."
The blunder comes after more than 40 members of the British Armed Forces, veterans and their families took part in a Poppy Parade, which saw the first official poppy from the Royal British Legion's headquarters delievered to Cameron at Downing Street on 22 October.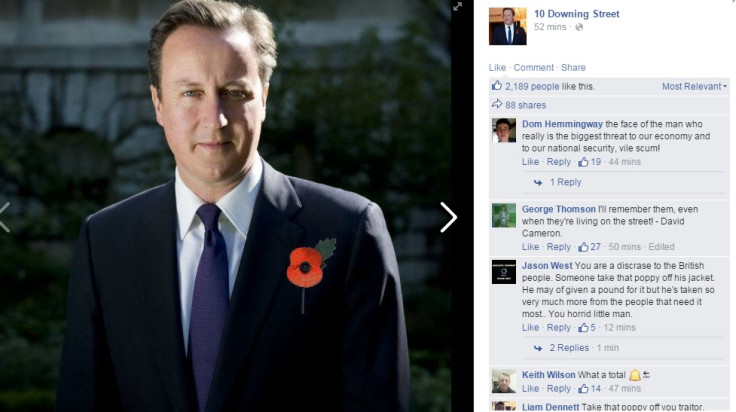 "The Poppy Appeal 2015 invites you to uncover the stories behind the poppy, from its original meaning as a symbol of Remembrance and hope, to the stories highlighted at today's Poppy Parade of individuals the Legion has supported," said Mark Stonelake, the Royal British Legion's National President.
"The poppy is a powerful symbol worn to commemorate the sacrifices of our Armed Forces, but also to show support to those still serving, veterans and their loved ones. The generous donations of the British public enable the Legion to help today's Armed Forces community to live on after troubled times in happy and positive lives."
The poppy has been used since 1921 to commemorate Britain's war dead ahead and during Remembrance Day on 11 November. The symbol is synonymous with the Royal British Legion's Poppy Appeal and the charity is expected to distribute more than 45 million of the flowers this year in return for donations.