In the Palace of Westminster hangs William Rothenstein's painting depicting the scene in 1614 when Sir Thomas Roe, envoy to India from King James I, arrived at the court of Ajmir to lay the foundations for British rule.
Part of a series of images commissioned for the Houses of Parliament in 1925 to tell the story of 'The Building of Britain', it might well seem like an anachronism in a world where the winds of change have long since blown the pink hue of empire from our maps.
Yet, while the days of an imperial Britain may be behind us, the UK continues to wield a cultural, intellectual and economic influence that dwarfs its geographic stature. From the dome of Germany's Reichstag — designed by Stockport-born architect Norman Foster — to the iPod — the creation of British designer and Apple Chief Design Officer Johnny Ive — Britain's cultural footprint is extensive.
As Britain enters its first post-recession Parliament, however, it would do well to remember that it is only by maintaining strong links with the nations who share its history that it will secure its influence in the future.
At the heart of this is British higher education, an area in which we continue (along with the United States) to lead the world as a centre of excellence — indeed, according to QS's latest global ranking of universities, four of the world's top six institutions are British.
Britons are rightly proud of this fact. But we must also remind ourselves that there is little doubt that these great universities would be a shadow of what they are today were it not for the contribution — both in learning and in funding — of students and academics from nations like India (which is second only to China in the number of students it sends to the UK).
After all, in December of this year, the presidency of the Royal Society will be taken up by Sir Venki Ramakrishnan; an Indian-born chemist whose research at the University of Cambridge earned him the Nobel Prize in 2009.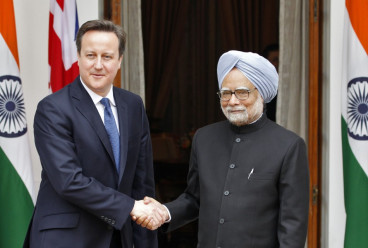 This kind of internationalism is Britain at its best and, when it succeeds, is one of the country's most valuable assets. Any who doubt that should consider the fact that, even today, one in seven world leaders were educated in the UK; that's the kind of soft power that cannot be bought.
But for all the benefits that Britain's status as a destination for the world's brightest and best has brought, we are a nation that appears increasingly keen to take the road of isolation and protectionism over that of openness and diversity.
As the anti-immigration rhetoric of politicians like Theresa May and Nigel Farage drives an increasingly xenophobic policy agenda, the young minds who once looked to universities like Cambridge and Birmingham are now turning their eyes to Canberra and Boston.
Having begun to decline for the first time in three decades last year, the number of international students enrolling in British universities has continued to fall. In fact, since 2010, the number of Indian students choosing UK institutions has fallen by 50%.

'If we are no longer a key member of the EU, will our presence start to dwindle? Will we no longer be a main trading partner? Entrepreneurs take risks all the time, we cannot be afraid of failure because we will inevitably fall at some hurdles along the way. However, the pros should always outweigh the cons and I'm not sure a "Brexit" provides this kind of stability.'
Read James Caan's view on the EU referendum by clicking here.
Given that, in London alone, it is estimated that international students contribute as much as £2.3bn to the economy, the direct damage of this trend could be considerable. Even more detrimental, however, will be the long-term impact on Britain's standing on the world stage.
That we are busy severing one of the central threads of a relationship with India that has spanned hundreds of years is reckless. To do so at the very moment when Prime Minster Narendra Modi is seeking to open what, by some reckonings, is now the world's fastest-growing economy to international investment is madness.
When Sir Thomas Roe landed on India's shores he unknowingly sowed the seeds of what would one day become the largest empire in human history. Rather than allow that painting to fade into the background in a dim corner of the Westminster palace, our politicians must find a way for Britain's 21st-century envoys to build connections with a new generation of powerful and enterprising nations.
Lord Bilimoria is the founder and chairman of Cobra Beer, Chancellor of the University of Birmingham and the founding Chairman of the UK-India Business Council.