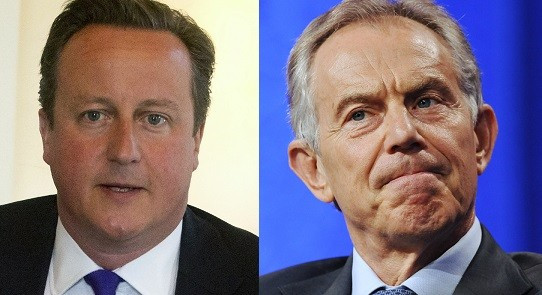 David Cameron did not want to "act like previous prime ministers" over potential military action in Syria, he has told reporters.
Following his defeat in the House of Commons when MPS voted 285 to 272 against military intervention in Syria, the prime minister admitted he felt "regret" that he did not gain sufficient support for action in parliament.
He would still push for a "robust response" against the Assad regime over the gas attack on Ghouta outside Damascus, in which more than 300 people died.
Cameron said he accepted that parliament did not want to see British military action in Syria.
One of his main aims was to "act in a different way to previous prime ministers" by consulting the government before taking any action.
He said: "I was faced with three things I wanted to do right and do in the right way
"First of all, to condemn absolutely and respond properly to an appalling war crime that took place in Syria.
"Secondly, to work with our strongest and most important ally who had made a request for British help.
"Thirdly, to act as a democrat, to act in a different way to previous prime ministers and properly consult parliament.
"Obviously politics is difficult - that involved going to parliament, making an argument in a strong and principled way, but then listening to parliament."
Speaking at the debate in Commons, Cameron said that Britian's involvement in the war in Iraq - led by Labour's Tony Blair - still left a painful legacy a decade later.
"I am deeply mindful of the lessons of previous conflicts, and in particular the deep concerns in the country caused by what went wrong with the Iraq conflict in 2003," he told MPs.
"One thing is indisputable: The well of public opinion was well and truly poisoned by the Iraq episode and we need to understand the public scepticism."
He added later: "We will continue to take a case to the United Nations, we will continue to work in all the organisations we are members of - whether the EU, or Nato, or the G8 or the G20 - to condemn what's happened in Syria.
"It's important we uphold the international taboo on the use of chemical weapons.
"But one thing that was proposed, the potential - only after another vote - involvement of the British military in any action, that won't be happening.
"That won't be happening because the British parliament, reflecting the great scepticism of the British people about any involvement in the Middle East, and I understand that, that part of it won't be going ahead."
Cameron also said he does not feel he has to apologise to President Barack Obama for not getting involved in military action in Syria.
"The American people and President Obama will understand that," he said.
Labour leader Ed Miliband said: "People are deeply concerned about the chemical weapons attacks in Syria, but they want us to learn the lessons of Iraq," he said.
"They don't want a rush to war. They want things done in the right way, working with the international community."
He added Britain "doesn't need reckless and impulsive leadership, it needs calm and measured leadership".
READ:
Syria: 'Napalm-Like' Bomb Dropped on Aleppo Playground Kills Many Children [VIDEO]
David Cameron a 'Lame Duck Leader' after Historic Syria Defeat [VIDEO]
Assad's Son Hafez, 11, Goads Obama on Facebook to Attack Syria
Syria Strike Could Happen within Week, Says Francois Hollande
Syria Crisis Debate: Ed Miliband's Finest Hour?
European Markets Mixed After UK Parliament Rejects Syria Action