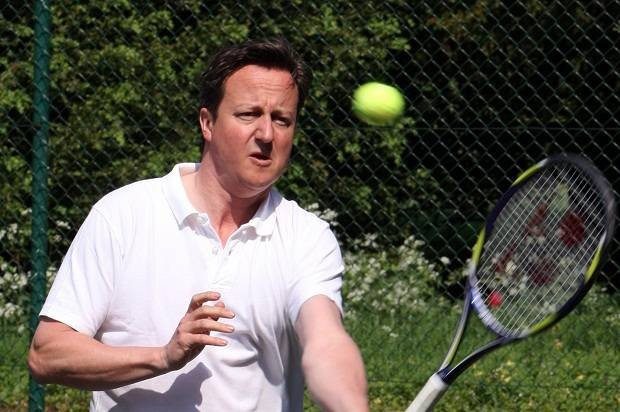 David Cameron may not have snubbed Barack Obama in favour of a game of tennis after all. Instead, the prime minister may have been using secret code with his staff, a former government insider has claimed.
Claims that Cameron kept Obama waiting were made by race horse trainer Charlie Brooks, a friend of the prime minister. He told the Racing Post the incident happened while he was playing Cameron at tennis.
"I won the first set easily, then he won the second set, and then someone came up to him and said 'Mr Obama is on the phone for you, Prime Minister'.
"I thought 'Okay, we'll have to leave it there'. But he said 'I think we've got time for a third set - tell Mr Obama I'll ring him back."
But former Labour spin doctor Damian McBride, who worked for Gordon Brown, said that giving the prime minister a chance to get away from an event or meeting by pretending that an urgent call was waiting, was a common tactic.
McBride said on Twitter:
I'm guessing Obama wasn't really on the phone & that's just the pre-agreed 'out' the clerks always give Cam once a meeting has run an hour.

— Damian McBride (@DPMcBride) September 27, 2012
We used to put blank post-it notes into GB. If he wanted to carry on a meeting, he'd ignore them. If not, he'd say e.g.: 'Netanyahu? Now?' — Damian McBride (@DPMcBride) September 27, 2012
His hypothesis was supported by the official response from Downing Street to Brooks's claim.
A "bemused" spokesman said Brooks had been logged visiting Chequers, the prime minister's rural home, three times but there was no record of a call from the US president on any of those occasions.
If McBride is right then it raises the question of whether Cameron kept Obama waiting on the line in the mistaken belief that he was being given a secret signal.
McBride lost his job with Brown in 2009 after being exposed for plotting a smear campaign. The resulting storm tarnished Brown's premiership by stoking claims of a culture of bullying inside No10.
Other revealing details about Cameron behind closed doors were revealed by Brooks.
The tennis-mad premier reportedly has a machine nicknamed the Clegger which fires balls at high speed over the net.
The pair are friends from their days as pupils at Eton College. Brooks alleges that Cameron was known within their circle as the "fat, noisy one".
Brooks is the husband of Rebekah Brooks, the former News of the World editor who is embroiled in the News International phone hacking scandal. He also faces trial for allegedly withholding evidence from police investigating whether victims' phones were hacked by reporters.
He has denied the charges.