David Cameron in Washington: PM 'lobbied' Barack Obama's Congress opposition over Iran sanctions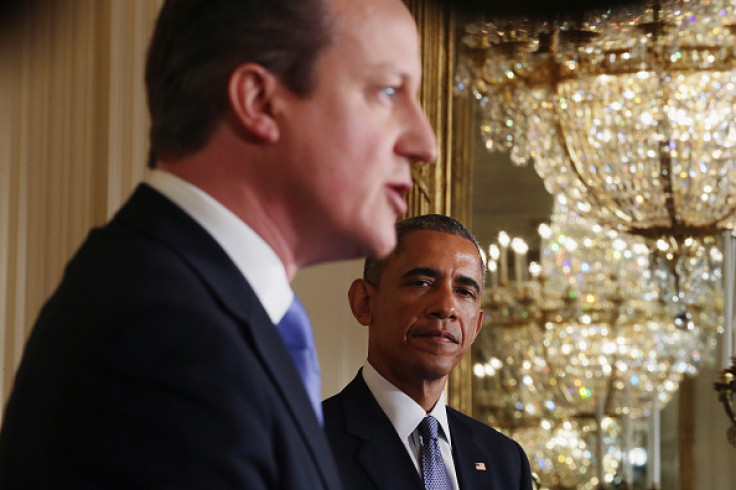 David Cameron held discussions with members of Congress to state the case that further sanctions on Iran would harm negotiations over its nuclear programme.
US lawmakers want to put more pressure on Iran with more sanctions designed to harm its economy.
But at a joint White House press conference, President Barack Obama said he would use his presidential veto to shoot down further sanctions in the pursuit of a diplomatic solution.
The president also revealed the prime minister had talked to politicians on Capitol Hill, extolling the benefits of continuing discussions with Iran.
Telling reporters he spoke to members of Congress on behalf of the people of the UK, he said: "I made the point that as a country that stands alongside the US... that future sanctions will not help talks come to a successful conclusion."
Cameron said he fought hard "for Europe to sign up to oil sanctions in the first place".
Commenting on the chances of a deal, Obama said one could be in the offing within "60/90 days".
He said: "I have always said that the chances we can get a diplomatic deal is 50/50. Iran is a regime that is deeply suspicious of the West and deeply suspicious of us [the US]."
He added there remained "huge differences" between the two nations and but urged Congress "show patience" when pushing for sanctions on Iran in order to solve "a big problem without potentially resorting to war".
Speaking in strong terms, Cameron denounced Islamic extremists, such as those responsible for last week's Paris shootings as part of a "poisonous, fanatical, death cult".
He said: "We face a poisonous and fanatical ideology that wants to pervert one of the world's major religions, Islam, and create conflict, terror and death.
"With our allies, we will confront it wherever it appears."
The pair were also united on the taking the fight to terrorist group Islamic State, which has emerged as a major threat in the aftermath of the fall of Syria.
"David and I agree we need to step up training of Iraqi forces and will not relent until this terrorist organisation is destroyed," Obama said.
Asked about the state of the global economy, both leaders pointed to a slowdown in Europe, but said they would stick to their current courses. "We are two economies that are standing out. We must be doing something right," the president said.
Obama and Cameron also renewed calls for nations across the world to do more to tackle the threat of Ebola.
© Copyright IBTimes 2023. All rights reserved.