Prime Minister David Cameron has vowed to hunt down the Isis militants responsible for the beheading of British aid worker David Haines.
Shortly after a video showing the beheading of Haines at the hands of an allegedly British jihadist was released by the militant group, the prime minister described it as an "act of pure evil".
"This is a despicable and appalling murder of an innocent aid worker. It is an act of pure evil. My heart goes out to the family of David Haines who have shown extraordinary courage and fortitude throughout this ordeal," Cameron said in a statement released by Downing Street.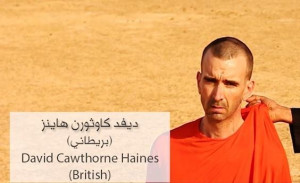 "We will do everything in our power to hunt down these murderers and ensure they face justice, however long it takes."
Cameron is set to hold an emergency meeting of Cobra, the emergency response committee, to formulate an appropriate response to the reported beheading.
Towards the end of the video the masked extremist who beheaded Haines threatens to take the life of another British hostage, if Cameron presses ahead with the UK's campaign against Isis.
The Foreign Office is investigating the veracity of the footage.
Obama's condemnation
The White House has also condemned the beheading.
President Barack Obama said in a statement: "The United States stands shoulder to shoulder tonight with our close friend and ally in grief and resolve. We will work with the United Kingdom and a broad coalition of nations from the region and around the world to bring the perpetrators of this outrageous act to justice."
Two American journalists, James Foley and Steven Sotloff, were beheaded in the same fashion as a warning to the US to scale down its military operation in Iraq.