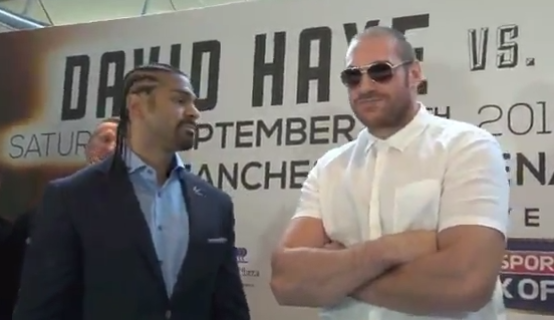 David Haye has tried to get under the skin of Tyson Fury ahead of their highly anticipated showdown on September 28 by claiming that his sparring partners would beat the outspoken Manchester heavyweight.
Fury had been the one landing the verbal blows when the two met for a press conference to announce the fight but it seems Haye is now looking to agitate the unbeaten prospect.
Haye has faced the better quality of opposition and is a two-weight world champion but there have been some suggestions that he would struggle against Fury due to his sheer size and power.
The 32 year old Londoner is giving away some six inches in height and seven inches in reach to Fury but Haye has previously conquered a giant when outpointing Nikolay Valuev In November 2009.
With the fight fast approaching Haye has now claimed that his sparring partners would be able to defeat Fury.
"I have no doubt whatsoever that the guys brought over for me to spar would do a number on Fury in a fight," Haye told Sky Sports.
"That's what has made this camp so great. Rather than bringing over the typical sparring partners, guys used to just taking punishment, I have brought over a load of top-10 heavyweights, some of them unbeaten, with lots of ambition and pride. I have also brought over big, big punchers."
Haye has been sparring with British prospect Richard Towers and Ukrainian Alexander Dimitrenko, while Pole Mariusz Wach, who lost on points to current WBA, IBF and WBO king Wladimir Klitschko just last year, has been joined in camp by American sensation Deontay Wilder.
The undefeated heavyweight has won all 29 of his professional fights by stoppage and Haye, who can been seen sparring in the video below, is convinced that he would knock out Fury.
"Wilder punches about as hard as anybody in the division right now, and he'd be nailed-on to spark Fury in a fight," added Haye. "One shot from Deontay would do the trick.
"Wach is one of the toughest men I've ever shared a ring with. You couldn't even budge him with a baseball bat. Some nights I've wanted to try.
"Dimitrenko is a better schooled version of Fury, and Towers has been great for me, because he brings a lot of unorthodox moves to the table and has a long, fast and accurate jab.
"Each of them would make Fury look silly in a fight. Wilder would spark him, Wach would maul him from pillar to post, and Towers and Dimitrenko would outbox him round after round. Now imagine what I'm going to do with him."
David Haye Training Camp Behind The Scenes 2013 from Hayemaker Productions on Vimeo.