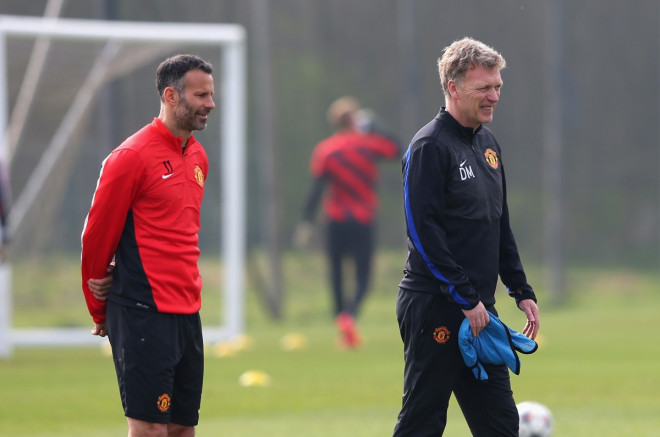 There will no shortage of theories behind David Moyes' futile attempts to lead Manchester United to glory but one failure that will sit atop his charge sheet is a telling inability to inspire.
It took just 10 months for a side who celebrated a 20th league title to be drained of their drive. Well documented issues with squad personnel and the inability to address those in the transfer market will have not helped the former United boss, but his failure to comply with his role as motivator in-chief was his capital crime.
With the exception of David De Gea, every single United player has been guilty of underperforming during their dismal campaign. But while each of them have been condemned for their perceived lack of effort, the sight of this Premier League-winning group of players aimlessly trudging their way to the end of the season illustrates Moyes' incompetence.
Their appalling campaign has also been accompanied by a stream of reports suggesting members of the squad were unimpressed with his approach to tactics and training, further undermining his title as 'The Boss.'
But in the man who has been handed the role as interim manager, the club will have an individual who represents a figure who has and will seamlessly continue to command respect from everyone at Old Trafford.
Ryan Giggs has been immersed in Manchester United for over half his life. As he evolved from elder statesman on the pitch to coach, his influence has grown to new levels. In more recent years the prospect of management has become an increasingly discussed prospect for the veteran, a topic he has often discussed with the same zeal he possessed as he terrorised full backs in his earlier days.
The 40-year-old has studied under Sir Alex Ferguson for his entire career and as he nears the end of his 22nd Premier League season, a full time move from the pitch to the dugout is expected.
Any move that sees the former Wales international named manager for a period longer than the remainder of the 2013/14 season would arguably represent a move driven by nostalgia. It would draw similarities with United's attempt to immediate recreate Ferguson's dynasty model, a move that got them into this mess in the first place.
But with a worrying lack of viable candidates on the horizon, Giggs may represent an option. There is little doubt over the midfielder's passion for the club and the esteem he is held in by fans but the step up from player to manager has seen so many of his former teammates fall by the wayside. But there is an aura about the Welshman that suggests his path will be different.
Giggs has remained under scrutiny from the public eye for the good and the bad since his teenage years and has been unfazed. Indiscretions in his personal life have in no way undermined his unwavering drive to remain successful at the very highest level, another indication that Giggs, for all his inexperience in a full time role, would not wilt when questions are being asked.
The midfielder seems destined to manage Manchester United in the future. The bond he holds with the club combined with his burning ambition to succeed has always suggested that this is a prospect later down the line. But what about now?
Jurgen Klopp's reiterations of his commitment to Borussia Dortmund have already ended those pipe dreams with Pep Guardiola also has stamped out the small possibility of a move to Old Trafford. The sheer logistics behind's Louis van Gaal's potential arrival with the World Cup dominating a summer that will be so pivotal to United's long term future suggests there in inherent risk in his appointment.
Of course that exists in Giggs' appointment too. With just four games of the season remaining, even a goal-laden conclusion would do little to validate his future. But in the interim manager lies a candidate who has felt and understood this season's failings deeper than anybody. The return of a figure who commands unequivocal respect from all quarters at the United helm is perhaps the most important step in restoring the club at the summit of English football. Few will do that more convincingly than the Welshman.