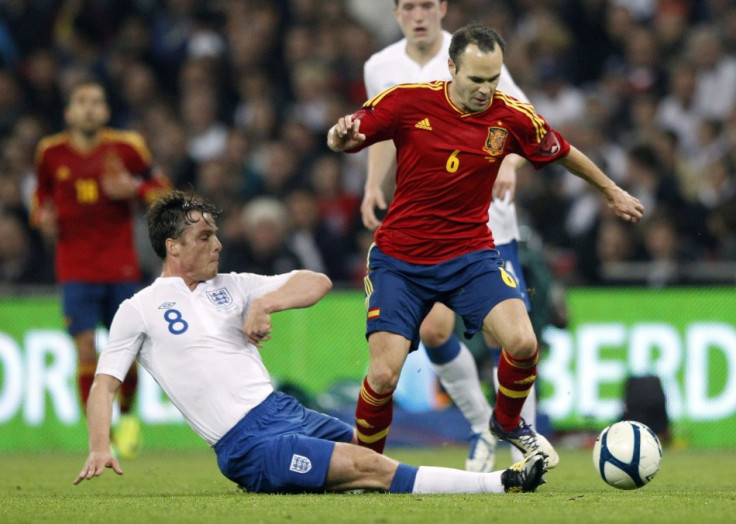 Manchester City talisman David Silva admits the best player he has ever played with is Barcelona midfielder Andres Iniesta.
The Spanish World Cup winning playmaker has been one of the focal points of Barcelona's recent successes alongside the vaunted talent of Xavi Hernandez.
Iniesta was the architect of Barcelona's victory over Manchester United in last season's Champions League final and he has proved as equally integral to the Spanish national side, alongside the aforementioned Manchester City star.
Silva believes Iniesta's peerless technical skills and eye for a killer pass is supplemented by an insatiable work ethic. The Manchester City midfielder admits the Nou Camp star is a pleasure to play alongside as well as watch, and although he features regularly alongside the likes of Yaya Toure, Sergio Aguero and Samir Nasri at the Etihad Stadium, the 25-year-old believes Iniesta is simply unsurpassed as a footballer.
"Andres Iniesta. He is brilliant to watch, and even better to play with." The Manchester City star explained to Sport Magazine.
"He creates chances, but it's not just that. He works so hard for the whole game."
Iniesta was named man-of-the-match after he scored Spain's winning goal in the 2010 World Cup Final against the Netherlands. The 27-year-old has already won three Champions League titles and five La Liga championships and was runner-up to his Barcelona teammate Lionel Messi, in the 2010 Ballon d'Or.
Ahead of tomorrow night's El Clasico against Real Madrid, Iniesta warned their perennial rivals that his is the best Barcelona side he has ever played in.
"I believe this is the best Barca team I've ever played in," Iniesta told Fifa.com. "That's down to the way our play evolves, with the teams getting stronger every year.
"The challenge facing us is to improve day after day, year after year, something we've done in every respect - tactically, physically and technically."