Davos 2017: Biden accuses Putin of wanting to undermine decades of progress
US vice president defends globalisation and urges world leaders to work together to address social uncertainty.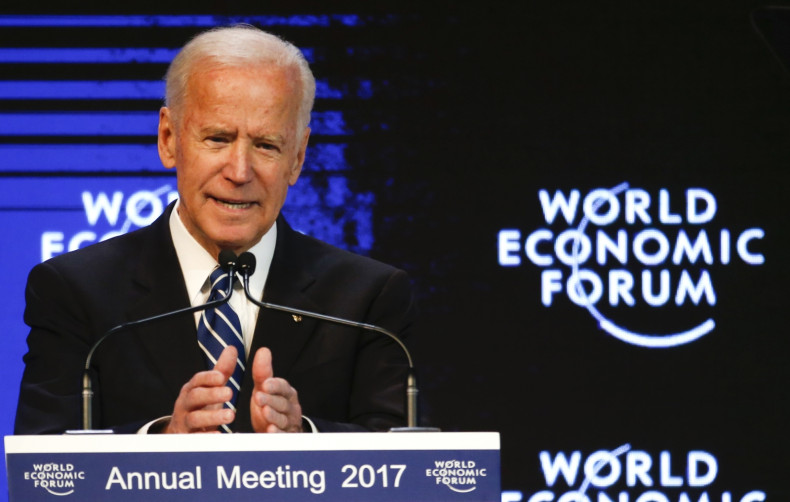 The outgoing US vice president Joe Biden has urged global leaders to address the economic trends fuelling social unrest, insisting there was "palpable uncertainty" about the state of the world and accusing Russian President Vladimir of wanting to undermine progress.
Speaking at the World Economic Forum in Davos, Switzerland, Biden said the people among the richest 1% in the world were not "pulling their weight", which in turn translated into growing social instability and widespread malaise about the political situation in a host of countries.
In what was his last public appearance before stepping down from the role he has occupied for eight years, the US vice president defended globalisation but warned the process had also contributed to social unrest in some areas.
"Taken together, these forces are effectively hollowing out the middle-class, the traditional engine of economic growth and social stability in Western nations," he said.
"We cannot undo the changes that technology has wrought in our world, nor should we try.
"But we can and we must take action to mitigate the economic trends that are stoking unrest in so many advanced economies and undermining people's basic sense of dignity."
As Chinese President Xi Jinping did on Tuesday, Biden also stressed the importance of rejecting "isolationism and protectionism", adding it was "at political odds with our values".
Turning to geopolitical issues, the 74-year-old urged world leaders to preserve the status quo and to prevent the "liberal world order" to be undermined by destructive forces.
"We cannot wait for others to write the future they hope to see," he said.
"The United States and Europe has to lead the fight to defend the values that have brought us to where we are today."
Biden singled out Putin, whom he accused of using every tool in a bid to "roll back decades of progress".
"Their purpose is clear — to collapse the liberal international order," he added.
"Simply put, Russia has a different vision for the future, which they are pursuing across the board. They seek a return to a world where the strong impose their will through military might, corruption, or criminality – while weaker neighbors fall in line."
Biden and US President Barack Obama will be replaced by the Donald Trump's administration in two days, but the outgoing vice president stressed the threat of instability was not strictly limited to the world's largest economy.
"The challenges we face, and the choices we must make as an international community doesn't hinge exclusively on Washington's leadership," he said.
"Whether we reinforce the ties that bind us or whether we unravel under the current pressure. These choices must be made by very single nation."