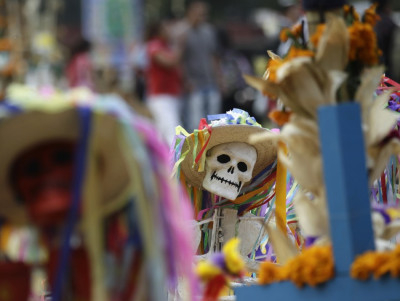 Mexicans have been visiting the graves of dead relatives leaving offerings of flowers, food and candy skulls to celebrate the Day of the Dead.
Grim but colourful celebrations have taken place across the country. The Day of the Dead is a national holidays and banks, businesses and shops closed to mark it.
Skulls are one of the symbols with many celebrants dressing up as skeletons.
Families gathered together to pray for departed relatives and friends and put the traditional yellow Cempasuchil marigolds on graves.
Many richer Mexicans decorated private altars to the dead with photos and memorabilia as their favourite foods and beverages in homage their souls.
The celebrations coincide with the Catholic All Saints Day but goes back further to old pagan rituals.
The holiday was a much-needed relief for a country wracked by years of a murderous drug war that has seen 60,000 people killed in the last six years.
According to Mexico's National Human Rights Commission, 24,000 people have gone missing since 2000 and there are 16,000 unidentified victims buried across the country.