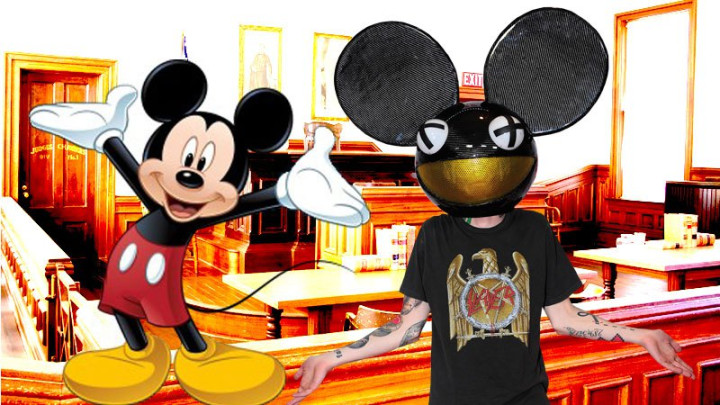 Earlier this week Disney attempted to stop the DJ known as deadmau5 from using his well-known mau5head logo as it was too close in appearance to its own iconic mouse ears logo - but not being the shy and retiring type, the Canadian music producer has hit back with a cease-and-desist letter of his own.
Most individuals probably wouldn't go toe-to-toe in a legal battle with a company like Disney, which is worth almost £100 billion and owns iconic franchises like Mickey Mouse, Star Wars and Pixar.
But deadmau5 is not your typical individual.
Also known as Joel Thomas Zimmerman, the DJ has hit back at the studio by issuing a cease-and-desist order against the company for the use of one of his tracks in a cartoon featuring Mickey Mouse.
Announcing the move on Twitter, deadmau5 said:
The letter outlines that a cartoon entitled "Ghosts 'n' Stuff - Re-Micks" uses a track entitled Ghosts 'n' Stuff which Disney did not have the right to reproduce.
The online link to the cartoon has been removed from Disney's website since the letter was issued.
Mouse ears
The DJ's logo, known as the mau5head is already a registered trademark in 30 countries, including the UK, Ireland and Germany.
The problem is that it is not trademarked in the US, where Disney is king. Deadmau5 has applied for a patent (back in June 2013) but this month Disney's lawyers submitted 171-page opposition to the application.
The cease-and-desist letter was send from the DJ's lawyer Dina LaPolt and follows Zimmerman's reaction on Thursday to the Disney's action:
In a statement issues after Disney's opposition was revealed, LaPolt said: "Given that the mau5head, and other identifying deadmau5 trademarks, have been used in the U.S. and around the world for almost a decade, we wonderwhy Disney is only now coming after deadmau5."
So what's Disney's case?
The multi-billion dollar studio claims the logo is "nearly identical in appearance, connotation, and overall commercial impression" to its "iconic" mouse logo and is "likely to cause confusion, or to cause mistake, or to deceive".