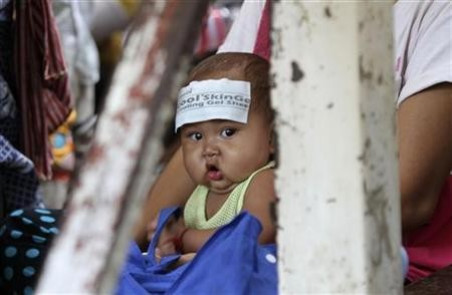 A deadly strain of the typical non-lethal childhood disease could be responsible for the deaths of 52 children in Cambodia since April, according the World Health Organization and Cambodian Health Ministry.
Tests confirmed a strain of hand, foot and mouth disease (HFMD), known as Enterovirus 71 (EV-71) was present in a majority of the 59 cases which were reviewed, including the deaths of 52 children aged between three months and 11 years.
HFMD typically causes fever, sores in the mouth and blisters on the hands and feet . However The EV-71 virus can result in paralysis, brain swelling and death, Most of the Cambodian cases involved children under three who experienced fever, respiratory problems that quickly progressed and sometimes neurological symptoms.
The WHO and Cambodian Health Ministry said in a joint statement: "Based on the latest laboratory results, a significant proportion of the samples tested positive for EV-71, which causes hand, foot and mouth disease. The EV-71 has been known to generally cause severe complications among some patients."
Cambodian Health Minister Mam Bun Heng added: "Further investigation is ongoing and this includes the matching of the laboratory and epidemiological information. We hope to be able to conclude our investigation in the coming days."
HFMD disease spreads by sneezing, coughing or coming into direct contact fluids from infected people. Illness is typically mild for HFMD - many infected children are not sickened at all - and most children recover quickly without problems.
There is currently no vaccine against the EV-71 strain of the disease yet.
Neighbouring Vietnam has also been battling with a surge of the deadly virus. Last year, around 110,000 people were infected with the disease, killing 166.
Most of those who died were children whose immune systems were not able to fend off the infection.
China is also experiencing an outbreak, and more than 240 people have died of the disease there this year, according to China's health ministry.