D-Day For Dale Farm Travelers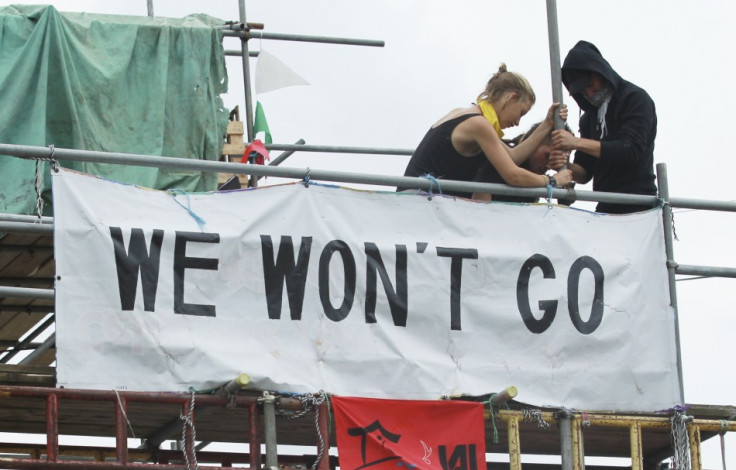 Travelers fighting to stay at the UK's largest illegal gypsy site will find out Monday afternoon if they have won their latest battle against Basildon Council to remain at Dale Farm.
Basildon Council is hoping to overturn an injunction, won by residents of Dale Farm in Essex, to stop the evictions from going ahead.
The battle for Dale Farm looked to be coming to an end at the start of last week when Basildon Council employed bailiffs to the site to evict the travellers but after a day that saw barricades constructed the travellers won a High Court injunction to remain at the site until 23 September. The High Court added Friday that the travellers would learn their fate Monday afternoon with Basildon Council confident that the travellers will begin to be evicted this afternoon.
The judge described the debate as a "difficult area" and it has been claimed that the travellers have more litigation planned which would inevitably delay an eviction decision further. The travellers have said that they want a judge to review the validity of council eviction decision with Mr Justice Edwards-Stuart expected to hear arguments on that challenge in the near future.
Supporters of the Dale Farm families yesterday pleaded with the councillors trying to evict them to return to the negotiating table. The 400 travellers on the illegal site in Essex are set to hear their fate this afternoon when the High Court decides if Basildon council is allowed to remove their homes.
"We urge all parties to find an amicable solution," Kate O'Shea, of Dale Farm Solidarity, said.
Basildon Council has already spent nearly ten years trying to get rid of the travellers and the council has confirmed that it has set aside £8million for the eviction and clear-up operation, which could last eight weeks. The Essex police bill is thought to be another £10million. Meanwhile, Essex police are trawling the internet for racist tweets or posts about Dale Farm, reports the Daily Mirror.
On Sunday night, travellers said they would cause havoc throughout Essex if they are evicted Monday afternoon the Daily Star reports. The newspaper claims that the travellers have put into force a UK wide operation involving every traveller in the country to help blockade the Dale Farm area. Thousands of travellers are said to be ready to descend on Dale Farm if Basildon Council win their legal battle at the High Court Monday afternoon.
A number of travellers who had left the site have returned since the injunction was granted a week ago. Travellers have said that they fear that evictions will not be carried out lawfully and that council officials will "over-enforce".
© Copyright IBTimes 2023. All rights reserved.