Female students across Delhi have launched a campaign to fight against gender bias in university dormitories, which impose strict rules on women that they say restrict their movement both outside the dorms as well as within them.
Members of the #PinjraTod campaign (Break the locks campaign) have highlighted "jail-like" circumstances in their university hostels where they are required to abide by a curfew of 8pm sometimes as early as 6.30pm, while their male counterparts are given the freedom to stay out later.
The campaign was launched by a group of online activists who set up a Facebook page where women could share their stories of negative experiences in college hostels. They were spurred into action when Jamia Milia University announced that it would be stopping girls from going out at night, a move that was prevented only when the Delhi Commission of Women (DCW) stepped in to criticise it.
"The situation in our hostels is terrible," said Shambhavi Vikram, a student at Delhi University who was among those to launch the #PinjraTod campaign. "The curfews that they have are arbitrary. And you have to constantly get permission from your local guardian before you are allowed to go out.
"A lot of colleges also have this absurd rule that if you're taking a night out you're supposed to only go to your local guardian's house. But it's not just about being locked up inside the hostel; our movement inside the hostel is also restricted."
Many of the women say they are also prevented from speaking on the phone at night, visiting friends in their bedrooms, and even bringing food into their rooms. Other reports have indicated that the women have had their phone logs and messages searched by dorm supervisors.
"All of this is absurd," she said. "The argument that girls need extra protection is used to instil fear in the heads of women so that women censor themselves. If the world outside is not safe, the answer is not to lock people up inside."
Vikram said that the campaign is addressing other issues such as street lighting in streets around the campuses and the workings of the internal complains committee, particularly the sexual harassment wing at Delhi universities, which she says are "majorly dysfunctional" and leave students with nowhere to report sexual harassment incidents.
"Ideally we would not want any curfew where we have to lock ourselves up inside by a definite time, but we're constantly being told that this is utopic and that this is not possible in our country," said Vikram. "We need to create a culture where women can easily move around."
A petition was initially launched by the campaign, calling on the DCW to conduct an investigation into the "discriminatory and sexist rules and practices that exist across student and working women's hotels in institutions across Delhi" and demanded that the curfew be reconsidered. Students and alumni of four main campuses across the city currently make up the #PinjaTod campaign – Delhi University, Jawaharlal Nehru University (JNU), Ambedkar University and Jamia Milia University. The campaigners recently put up hundreds of posters across the campuses to highlight their concerns and now have more than 2,000 supporters on Facebook.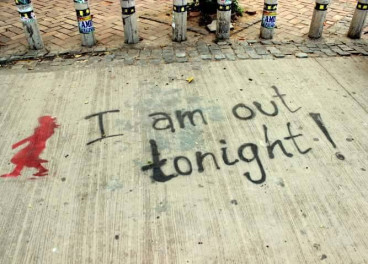 Threatening phone calls divide the student body
The women posted their signs at Ambedkar University and JNU, however, when the posters were taken to Delhi University they received a less welcoming response. Two members of the #PinjraTod campaign received threatening phone calls from a male student, who said he would teach them a lesson and physically harm them if they posted their flyers on top of his student body's posters ever again. The man identified himself as a member of the Akhil Bharatiya Vidyarthi Parishad (All Indian Student Council), a right-wing student organisation in India.
On Tuesday (22 September) the #PinjraTod campaign filed a report against the concerned student. They were supported by 40 other students who waited outside the police station while the members spoke with the authorities and Vikram said that the student has now been charged with making threatening phone calls.
However, the ABPV dismissed the #PinjraTod campaigners as being a "politically motivated group" who were only disappointed by ABVP's win over them in the recent Delhi University Student Union Elections. They declined to comment on the threats made to campaigners by one of their members.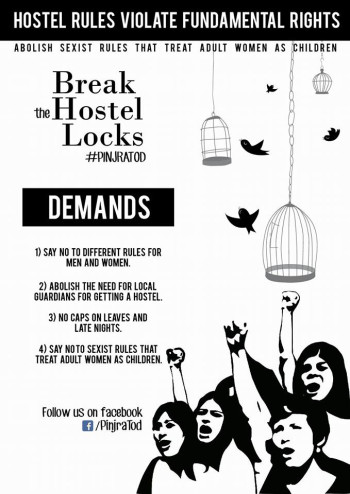 Disappointing response from university administration
While two of the colleges concerned have pushed back their curfew for women from 7.30pm to 8pm, #PinjraTod said no other concrete action has been taken by the administrations to respond to the students' concerns. Jamia Malia University said their policies were going to be reviewed to "uphold gender equality".
Meanwhile, a student from one of Delhi University's hostel accused dorm supervisors of dismissing her concerns when she raised questions over a rule that states women have to mark their attendance every night at 10pm. The student said she attempted to speak to hostel authorities during a general body meeting, designed as a space where students can air concerns, but was attacked and accused of wanting men in her room when she did.
"They are not even ready to listen," said the student. "They don't even want us to ask questions. They want docile dependent women and not independent free women who can question their norms. The authority not only want to restrict our mobility, they also want to curb our freedom to speak. "
The concerned student said she wished to remain anonymous as she believed publicy accusing the university authorities would compromise her place at the college dorm. However, she said she was proud to be a part of the #PinjraTod movement and hoped it would succeed so that adult women can begin to live with dignity.
Delhi University, National Law University Delhi (NLUD), Ambedkar University and Jamia Milia University did not respond to requests for comment.
UPDATE (25 September, 4.15pm GMT)
A spokesperson for Jamia Millia University said: "Jamia Millia Islamia stands for democratic freedom, gender equity and human rights. As an institution of international repute Jamia remains committed to all the values enshrined in the constitution of India."