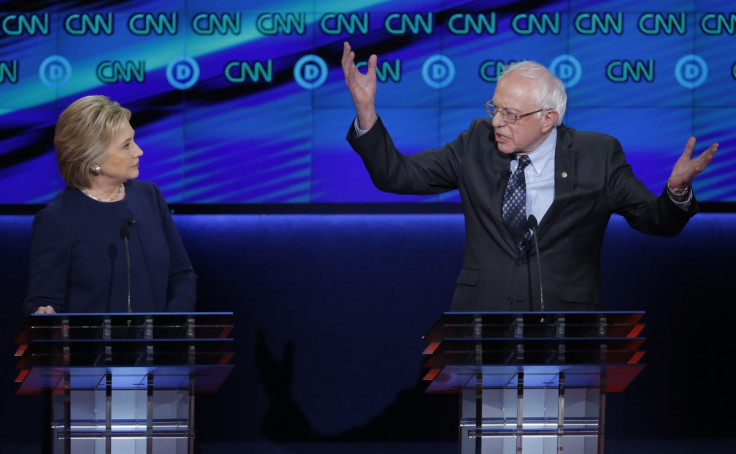 A day after the 8 March primaries in Michigan and Mississippi, with split wins by Hillary Clinton and Bernie Sanders, the last two Democratic presidential candidates will meet for the eighth debate on 9 March. The debate comes as Sanders' campaign is given new wind after an upset in Michigan granted him 65 delegates.
Clinton and Sanders are just days away from the 15 March primaries, with nearly 700 delegates at stake. Following several primaries and caucuses in early March, Clinton continues to lead with 1,221 delegates to Sanders' 571. Democrats need 2,383 delegates to win the party nomination.
The 8 March debate will allow the candidates to discuss issues that will likely weigh heavily in the upcoming primaries. With Univision's Jorge Ramos as co-moderator, the candidates will have to answer questions regarding immigration.
The Washington Post noted that Sanders may fight back against the moderators. Univision chairman Haim Saban has contributed $2.5m to a super PAC backing Clinton and Ramos' daughter works for the Clinton campaign. Sanders has repeatedly gone on the offensive against a perceived bias by The Washington Post.
Where and When
The Democratic debate will begin live broadcast at 9pm EST/2am GMT from Miami Dade College in Miami, Florida. The debate, sponsored by The Washington Post and Univision in partnership with CNN, will be moderated by Karen Tumulty of The Washington Post and Maria Elena Salinas and Univision's Ramos. According to The Washington Post, there will be pre-debate coverage led by The Fix's Chris Cillizza on the Post's desktop and mobile sites and its Apple TV app.
How to Watch
The eighth Democratic debate, held just a day after the 8 March primaries in Michigan and Mississippi, will be available on a number of platforms. The debate will be lived streamed on The Washington Post's website, the Washington Post app for Apple TV, the CNN website and the CNN mobile app. While CNN will broadcast the debate in English, Univision will carry the debate in Spanish.
The next debate, with the remaining Republican candidates, will be on 10 March from the University of Miami in Miami, Florida. Both debates will be live blogged by IBTimes UK at 9pm EST/2am GMT.