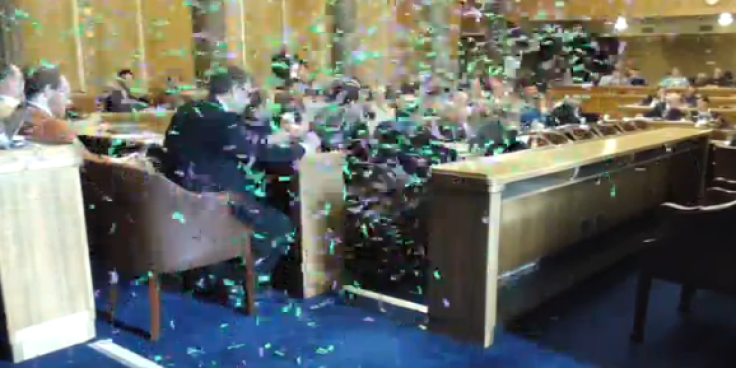 A protester who threw confetti and set off party poppers during a council budget meeting was arrested on suspicion of 'discharging a firework in a public place'. The 25-year-old woman, who is a member of feminist direct-action group Sisters Uncut, was arrested after protesting against cuts to vital domestic-violence services at Portsmouth City Council's budget meeting.
Confetti and party-popper string fell on the councillors below during the protest. A spokesperson for Sisters Uncut said: "We sat in the chamber and we started letting off party poppers, and released 4,745 pieces of green and purple confetti – one piece for each domestic-violence incident reported to Portsmouth Police in 2014/15."
The group released the confetti following discussions about domestic violence, some of which centred on the group itself, following an intended smear campaign by member of the council Scott Harris, who accidentally forwarded an email about Sisters Uncut to a member of the group. The email suggested that Harris thought it a good idea to 'play dirty' and was 'compiling some stuff' about Sisters Uncut and other people protesting against planned cuts to domestic-violence services.
The spokesperson added: "When the confetti fell, one person looked surprised and a few people were annoyed, then as 20 Sisters [Uncut members] walked out of the meeting they experienced severe aggression from the police and the council. One woman was stopped and searched, but no legal reason was given for the search, and the police denied her right to a legal observer, even though we had one there. Then she was arrested for discharging a firework.
"She was later let go, and wasn't charged with anything – and we have seen these intimidation tactics before. Sisters Uncut was protesting 180,000 of cuts to vital domestic violence services – some of which are specialised services, so people are angry about it. We think it is outrageous that someone throwing confetti is more of a crime than the council decimating domestic-violence services."
Portsmouth Police confirmed that a woman had been arrested under Section 80 of the Explosives Act 1975, and was given a penalty notice, meaning she would have to pay a fine. Sisters Uncut, which also has several groups in London, said they had seen some progress with Portsmouth City Council, but that services in the city were still under threat in the long term. "We have them on the back foot," the spokesperson said. "They have suddenly found 14 months of funding, but after that they are still planning on pushing through these cuts. Things like this are happening all over the UK."
Portsmouth City Council had not responded to IBTimes UK's request for a comment by the time of going to press.
To watch the council meeting in full, see the video below or forward to 18 minutes in to see Sisters Uncut's protest.