On 28 November, Sisters Uncut will march through central London to commemorate the specialist domestic violence support services that have had to close as a result of Chancellor George Osborne's austerity measures.
The event is timed in response to the government's spending review on 25 November, which detailed budget cuts. Elizabeth Jones, a member of Sisters Uncut, says the day of action is to remember the women's lives lost to domestic violence and "express rage at the cuts". She added: "This is state violence against women and we are making ourselves unignorable, forcing the government to listen to our demands.
In the Autumn Statement, Osborne said that the government would make an initial £5m ($7.5m) donation to four charities – the Eve Appeal, SafeLives, Women's Aid and The Haven –. "I'm going to use the £15m a year raised from the Tampon Tax to fund women's health and support charities."," he said.
Jones believes this funding is inadequate, likening it to a "sticking plaster over a haemorrhage. It's a sick joke and Osborne holds women in absolute contempt."
Domestic violence support services are a vital lifeline for women escaping from domestic violence. Since Osborne's austerity measures in 2010, more than 30 domestic violence services have been forced to close. As services shut down, Sisters Uncut says that more women will die.
Sabina Haq who will be marching on Saturday said: "Austerity is a choice, not a necessity. We demand that the government stops its cuts and provides domestic violence survivors with the support necessary to live in safety."
On 30 October, specialist violence against women's charity Eaves was forced to close due to lack of funds after nearly 40 years of service. The organisation supported women escaping domestic violence and victims of trafficking. It also helped women left vulnerable by cuts to legal aid and uncertain immigration status.
"We have seen a 70% increase in demand for services in the first six months of 2015 compared to the last six months of 2014. Yet, not only have we not seen a corresponding increase in funding; but, on the contrary, only cuts and closures across the specialist women's sector", Dr Louisa Cox, chair of Eaves said.
"We are particularly focusing on destitution, trafficking and sexual exploitation. What we are seeing is more women with more complex needs requiring more advocacy," she added.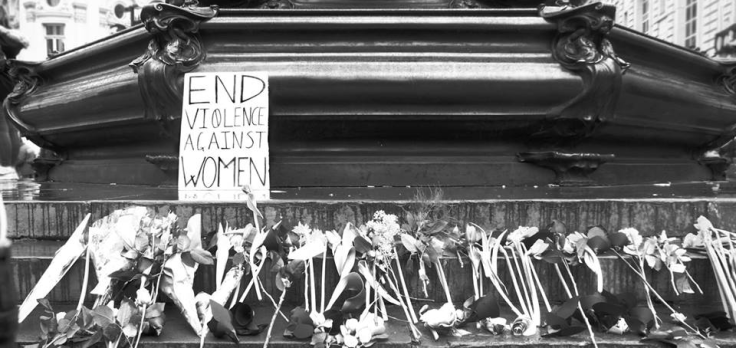 Most at risk
Since 2010, 32 refuges have been shut down. Charities that provide vital services to LGBTQ+ and black and minority ethnic (BME) women, such as Apna Haq, are in danger as councils move towards cheaper, non-specialist services. Austerity disproportionately affects BME women: 733 BME women sought refuge last year – and only 154 successfully.The services which do remain don't have long-term funding, as budgets are not nationally ring-fenced.
Around a third of all LGBT people, regardless of gender identity, experience domestic violence. This can be broken down further: 36% of LGBT women; 39% of gender non-conforming people; 51% of disabled people or people with long-term illnesses; 44% of bisexual people; and 64% of trans people reported experiencing domestic violence in a 2007 study.
In the US, nearly half of all bisexual women will experience rape in their lifetime, and are twice as likely to experience abuse by both people they know and strangers, according to the report Findings on Victimization by Sexual Orientation.
Nearly half of Rape Crisis' member organisations in England and Wales are faced with the threat of closure, with 42% of charities not having their funding secured beyond March 2016. A spokesperson for Women's Aid said: "In October, the ONS [Office for National Statistics] reported that the number of rapes and other sexual offences has reached its highest levels in 10 years.
"This shows that rape victims are clearly more confident in reporting rapes – but we also know that many abuse victims do not want to or cannot pursue a criminal justice outcome. This is where services such as Rape Crisis come in – to help victims rebuild their lives. There is a huge demand for these services that is not simply going to go away. The consequences of Rape Crisis centres being closed will be devastating."
Who are Sisters Uncut?
The organisation believes in taking direct action to defend domestic violence services. According to Sisters Uncut, two women a week on average are killed at the hands of a partner or ex-partner. The cuts make it harder for women to leave dangerous relationships and live safely.
The group takes direct action which comes in many forms such as blocking a busy road and staging a "die in", to occupying a runway to stop planes taking off. "Whatever form it takes, its purpose is to be disruptive."
On 14 February 2015, Sisters Uncut's first direct action, hundreds of women gathered at the Eros statue in Piccadilly Circus. Attendees volunteered to read out the names from a long list of women and girls who have been murdered by men, and a flower was laid for each of them. The youngest victim honoured was 22-month old Real-Jahzara McKoy, whose father murdered her and her mother Valerie Forde, 45, on the day he was asked to leave their family home.
On 7 October, the feminist activist group used the film premiere of Suffragette to raise awareness about austerity cuts to domestic violence support services. Some 500 women attended the disruptive central London protest and 14 stormed the red carpet.
Domestic violence survivor and Sisters Uncut activist Angie Johnson said: "My life was saved by specialist services and we must fight every step of the way to make sure all women can access them."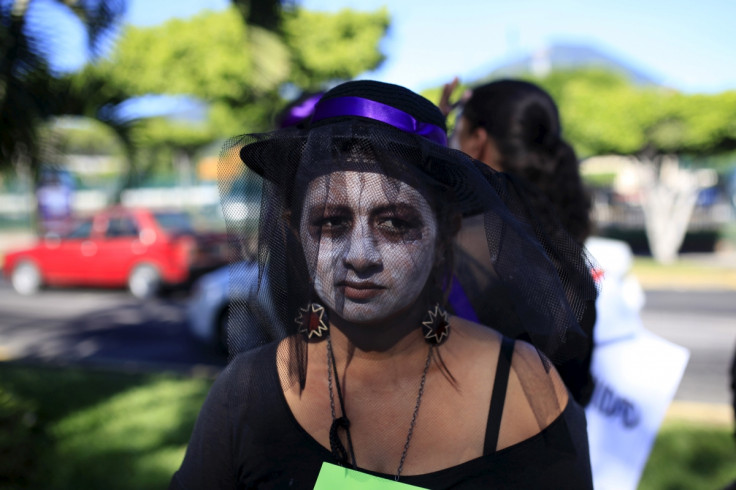 Facts about domestic violence
One in seven children and young people under the age of 18 will have experienced living with domestic violence
In 2014 112 women and 84 children were turned away from refuges because they could not be accommodated on just one day
Two women are killed every week in England and Wales by a current or former partner (Office for National Statistics, 2015)
One in four women in England and Wales will experience domestic violence in their lifetimes and eight per cent will suffer domestic violence in any given year (Crime Survey of England and Wales, 2013/14)
Domestic violence has a higher rate of repeat victimisation than any other crime (Home Office, July 2002)
Disabled women are twice as likely to experience domestic violence