Dennis Rodman Lands in North Korea Armed with a Basketball and Booze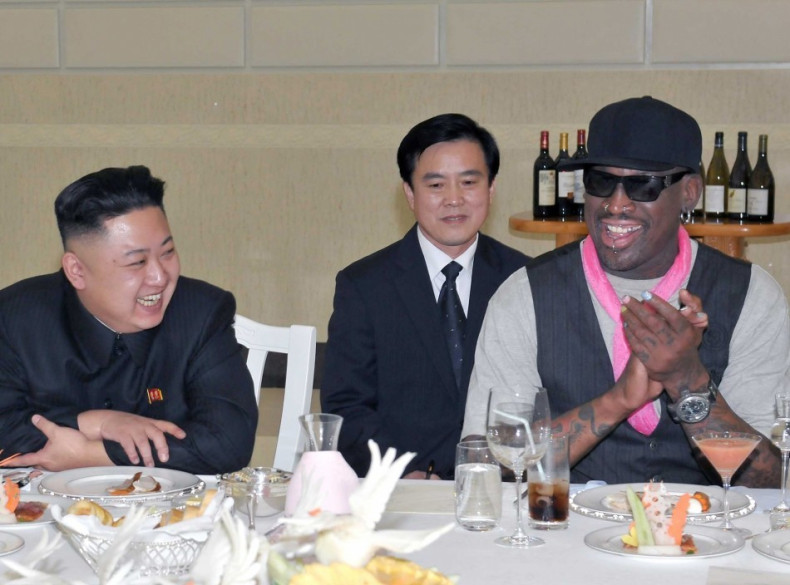 Former NBA star Dennis Rodman, dubbed the 'basketball diplomat', has arrived in Pyongyang on a mission to build bridges between Americans and North Koreans.
His second visit to the nuclear-armed country and his growing friendship with North Korea's dictator Kim Jong Un, comes after officials rejected a visit by a US envoy in a mission to help bringing home jailed American missionary Kenneth Bae.
However, Rodman said he will not seek Bae's freedom. "I'm not going to talk about that," he said.
"I just want to meet my friend Kim (Jong Un) the marshal, and start a basketball league over there or something like that. I have not been promised anything. I am just going there as a friendly gesture."
Extrovert Rodman, 51, said he is expected to visit 30-year-old Jong Un, a basketball fanatic, "pretty soon". After Bae's arrest in November and 15-year sentence of hard labour, Rodman asked the North Korea's leader on Twitter to "do me a solid" and release him.
But this time the former NBA star is only planning to hang out with Jong Un and family and hopefully drink some booze together.
"They love whiskey. They love tequila. They love vodka, stuff like this, so, hopefully we'll go to have a nice dinner, sit there and talk," said Rodman, who sported rings through his lower lip and each nostril. "I'm just going over there to have a good time and try to bridge the gap with Americans and North Koreans. Just let's let people see in America that it's not a bad thing to go to North Korea and have a good time and meet new people."
After his first visit to North Korea, Rodman told ABC: "He wants Obama to do one thing - call him. He said, 'If you can, Dennis - I don't want war. I don't want to do war.' He said that to me."
"I said 'Obama loves basketball.' Let's start there."
In another interview, Rodman said Jong Un "just wants to be loved".