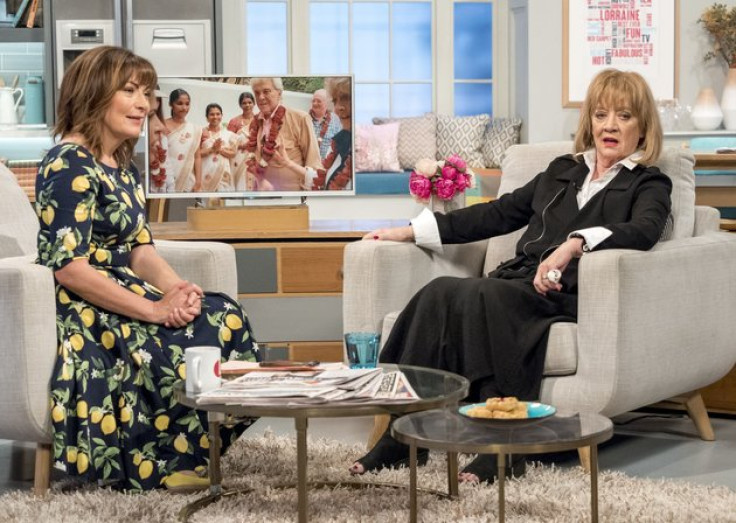 Series two of hit show The Real Marigold Hotel has already caused a stir, and it hasn't even begun. One of the show's stars, Amanda Barrie, swore live on ITV's Lorraine today (15 February) while promoting the show, and was forced to make an apology.
Talk-show host Lorraine Kelly interviewed the 81-year-old Carry On actress about her appearance on the BBC1 programme, in which she and a host of other senior celebrities share a unique living experience in India.
Getting overexcited about discovering a new talent she had while filming, Barrie said: "Darling, I was so sh*t hot on the segway." The slip-up immediately lead to Kelly issuing an apology, but didn't cause too much offence among viewers.
One person wrote on Twitter: "At 81, Amanda Barrie should know better than swear on TV!" while another put: "Watching 81 year old Amanda Barrie on @thismorning dropping that she was "sh*t hot" on a Segway has had me a stitches!"
The Real Marigold Hotel, which premieres tonight on BBC1 at 9pm, features eight senior famous faces embarking on an experimental adventure to India – testing whether they can set up a more rewarding retirement than in the UK.
Stars of the new second series comprise of entertainer Lionel Blair, wildlife presenter Bill Oddie, actress Amanda Barrie, former world snooker champion Dennis Taylor, TV personality Rustie Lee, doctor Miriam Stoppard, singer Sheila Ferguson and actor Paul Nicholas.
The group will take over a 16th century mansion in the heart of Old Kochi, Kerala; and while Ferguson is keen to make the most of her experience abroad, Blair will find the culture shock unsettling.
The first episode will be filled with giggles, including the bit when Nicholas stops off to pick up some pants he forgot to pack, while Lee will take over the kitchen and Oddie refuses to do yoga. And aside from the entertainment, viewers will be enriched with the tropical, colourful and luscious sights of Kerala in India with its idyllic coastline and picturesque lakes.
Tune into The Real Marigold Hotel at 9pm on BBC1 tonight.