Deutsche Bank is set to cut 23,000 jobs – about a quarter of its total number of employees – especially in technology departments, Reuters reported. Sources told the newswire that some of the job cuts will be due to the spin-off of Deutsche's PostBank division. The axe would fall in London, New York and Frankfurt.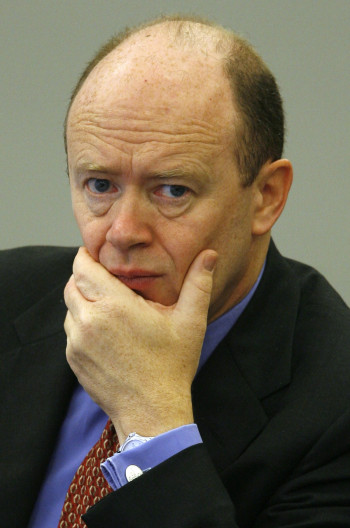 Under new co-CEO John Cryan, the former UBS CFO who was appointed in July 2015, cuts of big overhead costs were promised as the bank tries to keep down its prices. The Reuters source said: "This is the first time ever that you had the feeling that somebody is talking straight. But the problem is he has to deliver soon."
IBTimes UK reached out to Deutsche Bank but a spokesman said the company is declining to comment on the record and to provide any background information whatsoever.
Deutsche Bank's work force would be put down to 75,000 after the cuts. Around 15,000 of the total positions axed would come from the disposal of PostBank.
The bank's share price jumped by more than 1.7% shortly after the news, which followed a Reuters report that the company is planning to close 90% of its operations in Russia.
Deutsche is struggling to save on operations as it is trying to make up for high costs relating to regulatory challenges. In April, the bank was fined some $2.5bn by regulators in the US and the UK for Libor rate setting.
The company has not even closely recovered to pre-crisis market cap and is in the midst of a crisis, proven by a 39% vote against current management at its most recent AGM in May.