After six children and multiple high-profile romances, it looks like P Diddy could finally be settling down.
The rapper and music mogul, whose real name is Sean Combs, has sparked speculation he is engaged to on/off girlfriend Cassie Venture after posting an image of an engagement ring on Instagram.
He captioned the 'blingtastic' snap: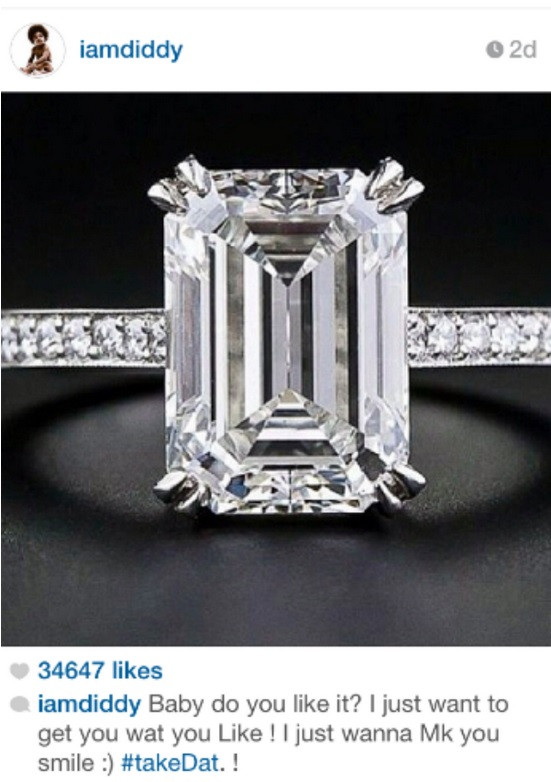 Cassie, 28, sent the rumour mill into overdrive when she confirmed that Diddy gave her the ring by writing under his photo: "I'm definitely smiling. It's perfect."
Hours later, the Official Girl hitmaker was spotted wearing the ring in a photo posted by Keyshia Cole.
If Diddy pops the question it will be a dramatic U-turn for the 44-year-old star who has remained coy about marriage.
In October 2013, Diddy, who once stepped out with Jennifer Lopez, revealed he had no plans to get hitched anytime soon as the title "husband" came with too much responsibility.
"It definitely would be a dream come true for me to just one day be ready for that [marriage]" he told ABC talk show The View.
"I'm not really looking because I know the responsibility that comes with that, and I think that a lot of people, they jump into that and they're not honest with themselves.
"I'm brutally honest with myself. I don't want to get married and not make that woman be the best. I've been close to it and when I'm ready I'll make the announcement, but when I do it, I'm doing it forever."
Will Diddy put a ring on it as Beyoncé once sang? Only time will tell.