Matt Drudge, the founder of popular conservative news aggregation website Drudge Report has claimed the US government may be responsible for launching an unprecedented cyberattack against his publication that caused a 90 minute outage.
On 20 December, Drudge tweeted to his 458,000 followers: "Is the US government attacking Drudge Report? Biggest DDoS since site's inception. Very suspicious routing [and timing]."
Referencing the US headquarters of the United States Cyber Command, Drudge later added: "Attacking coming from 'thousands' of sources. Of course none of them traceable to Fort Meade."
The attack came in the form of a distributed-denial-of-service (DDoS) assault, a malicious tool that is used to send an overwhelming amount of web traffic towards a websites' server with the aim of taking it offline. One recent incident took down popular websites like Twitter, Spotify and Reddit.
Drudge provided no evidence to back up his claim of US government involvement. Drudge Report was down briefly around 7 pm (EST), but resurfaced roughly an hour-and-a-half later. The top headline on Drudge Report at the time read: "Moscow Mocks Obama 'Lame Duck'".
Rumours and speculation on social media quickly swirled, as many commentators claimed that RT, the news outlet funded by the Russian state, was also suffering outages. "Numerous reports of Russian state-run Network RT being unavailable," one user posted.
At the time of writing, RT was online.
Meanwhile, the conservative-leaning Washington Times appeared to also link the Drudge Report outages to recent "countermeasures against Russia for hacking of Democrats." The outlet described the founder's website as "one of the highest-profile outlets to take a favourable tack on Donald Trump during the 2016 presidential campaign."
Again, no evidence – other than the founder's tweets – was provided.
President Barack Obama announced sanctions on Thursday (29 December) against several Russian agencies and suspected hackers after cyberattacks during the 2016 presidential election against Democratic Party groups were allegedly launched to help Donald Trump get elected.
"All Americans should be alarmed by Russia's actions," Obama said in a statement.
"In October, my administration publicised our assessment that Russia took actions intended to interfere with the US election process. These data theft and disclosure activities could only have been directed by the highest levels of the Russian government."
US intelligence previously said that only "senior-most officials" in Russia could have sanctioned the hacks. Officials believe hackers linked to the Kremlin infiltrated numerous groups and politicians before releasing troves of stolen information online, often through various fronts.
Most recently, the US expelled 35 Russian diplomats for alleged interference in the election. This retaliatory action was taken against four top Russian military personnel and two Russian compounds in Maryland and New York. The Russian state promised a swift response.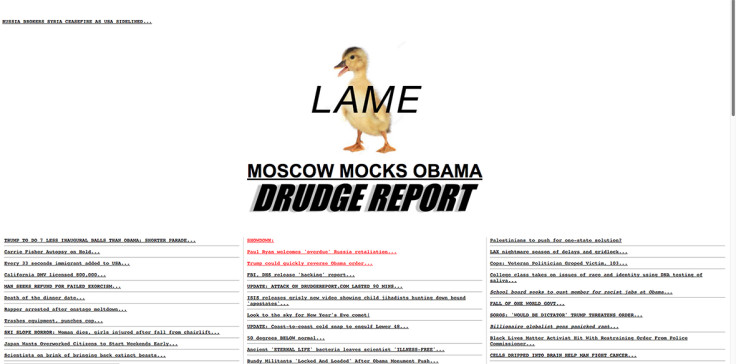 The State Department released a statement saying the officials were "acting in a manner inconsistent with their diplomatic or consular status" and that US diplomats had faced "a pattern of harassment [...] that has increased over the last four years."
According to Politico, Drudge Report is one of the leading sources of referral traffic in America. In 2014, at least according to its own advertising management firm Intermarkets, the website was the top site of referral traffic to the Daily Mail, CNN, Fox News, AP and more.
At the time, it had two million daily unique visitors and around 700 million monthly page views, Politico reported.