Prominent members of the Republican party are getting behind President Barack Obama's new sanctions against Russia following US intelligence agency accusations it influenced the 2016 election.
On Thursday (29 December) Obama declared 35 Russian diplomats 'persona non grata' and gave them 72 hours to leave the the country. The State Department also ordered the shuttering of two Russian diplomatic retreats in Maryland and New York.
"The retaliatory measures announced by the Obama Administration today are long overdue. But ultimately, they are a small price for Russia to pay for its brazen attack on American democracy," said Senators Senators John McCain and Lindsey Graham in a joint-statement. The two said they "intend to lead the effort in the new Congress to impose stronger sanctions on Russia."
Former Republican presidential primary candidate Florida Senator Marco Rubio threw his support behind stronger sanctions as well. "I welcome the measures taken today to check Russian aggression and look forward to working with congressional leaders from both parties in the months ahead to strengthen these penalties," he said.
Rubio warned that "Putin has become so emboldened that he authorized the harassment of US personnel in Russia and attempted to undermine American democracy by meddling in our election."
Diplomatic relations between the two countries has frayed since 2014 when Obama placed a first set of sanctions on Russian oligarchs, politicians, and corporations following President Vladimir Putin's annexation of the Crimean region of Ukraine. Over the past year American diplomats throughout Europe have complained of being harassed and intimidated by Russian intelligence and security services. One diplomat said an intruder even pooped on the carpet in his living room.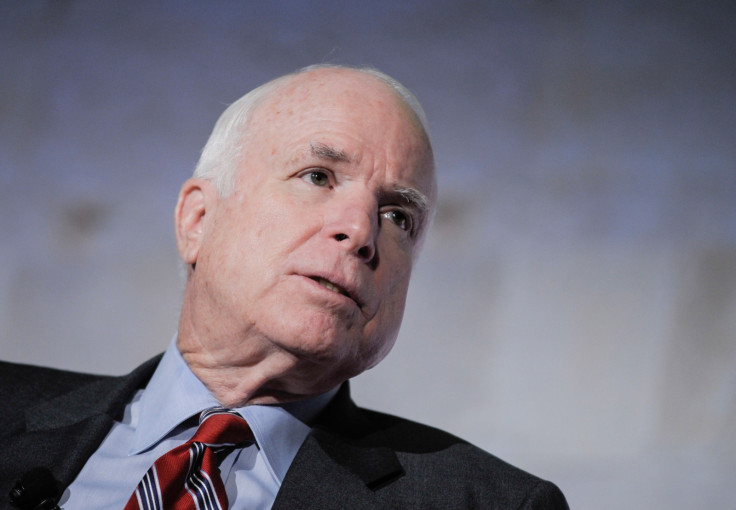 Top Republican, House Speaker Paul Ryan, condemned Russia as well, saying it "does not share America's interests" and "has consistently sought to undermine them, sowing dangerous instability around the world." Both Ryan and Rubio accused the Obama administration's "ineffective foreign policy" as being at the root of the conflict between the nations.
Obama's announcement coincided with the release of a Department of Homeland Security and FBI file that draws a link between the hacking and theft of emails from the Democratic National Committee (DNC) and Clinton campaign's emails and Russian intelligence.
These stolen emails were published by WikiLeaks throughout the 2016 campaign. More evidence drawing a connection between the hackers and Russian intelligence was published by a civilian cybersecurity firm last week. A secret CIA report revealed by the Washington Post is said to have clearly set out that Russian President Vladimir Putin sought to influence the election.
Republican President-elect Donald Trump has denied and resisted claims that Russia is behind the hacks and has accused American intelligence agencies of being driven by politics. "It's time for our country to move on to bigger and better things," he said in a statement on the sanctions.
"Nevertheless, in the interest of our country and its great people," he said, "I will meet with leaders of the intelligence community next week in order to be updated on the facts of this situation."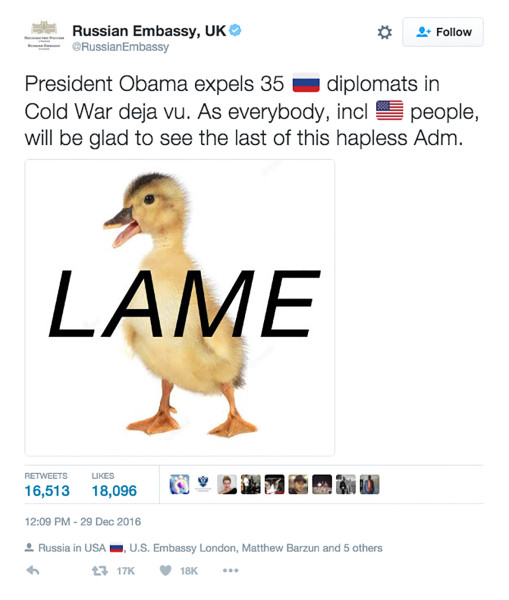 A full review of the evidence held by American intelligence agencies is expected before Trump's inauguration on 20 January.