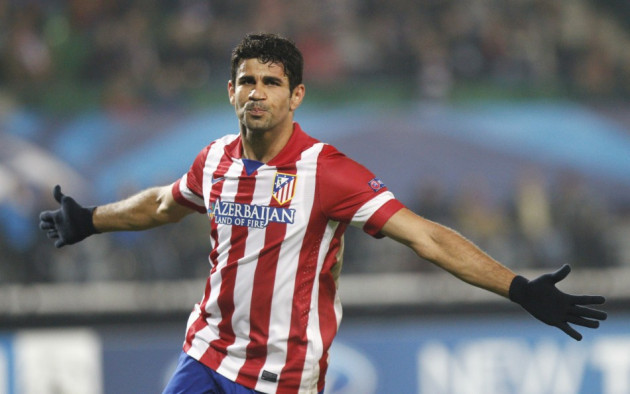 Chelsea manager Jose Mourinho will launch a bid for Atletico Madrid forward Diego Costa in the January transfer window after the early season struggles endured by Samuel Eto'o and Fernando Torres, according to The Express.
While Eto'o scored his first Blues goal in the 4-1 win over Cardiff City, Torres is yet to net in the Premier League but has registered in the League Cup and the Champions League this term.
The Spaniard netted twice in the impressive win over Schalke but his contribution domestically could see Mourinho make another addition to his attack, with Demba Ba seemingly not trusted with first team responsibilities.
Mourinho is also unable to recall Romelu Lukaku from his loan spell at Everton.
Among the candidates to quell Chelsea's attacking problems is Costa, who turned down a move to Liverpool in the summer, and has since scored 10 times in La Liga this season.
While Costa is currently at the centre of a controversy regarding his nationality ahead of next year's World Cup, the 25 year old could be become subject of a further tug of war this summer should Chelsea firm up their interest.
Despite owner Roman Abramovich having tempered his spending in previous transfer windows, with much hinging on Chelsea's attacking capacity, with even a top four place not guaranteed given the recent improvements of Liverpool and Tottenham, the Russian might be persuaded to part with substantial funds in order to secure Costa.
Torres produced one of the most impressive performances of his career in west London against Schalke on Tuesday and Mourinho has praised the former Liverpool forward and claimed his attacking resources are sufficient to see the season through.
"Torres is a hard worker and that is a surprise to me. He is not the kind of player that hides behind his statues or the fee Chelsea paid for him. No, he is a hard working boy," Mourinho said.
"Even when he is not performing very well like has sometimes happened since he arrived at Chelsea, he always kept his professionalism. He has always been positive, sometimes scoring goals, but always giving his best.
"He is a player that I trust and the same is true of our other strikers. Samuel [Eto'o] played very well in the last game and Fernando played very well today so we have strikers who can work for the team and also score goals. Those two and Demba [Ba] have enough quality to play for us and to succeed for us."