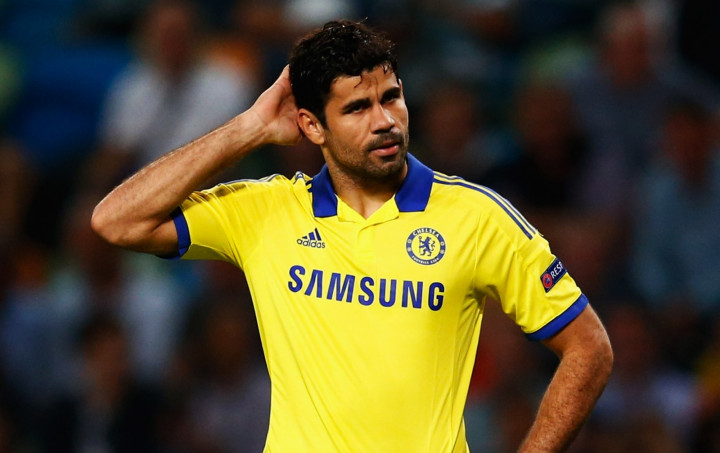 Diego Costa took just days to earn the hearts of Chelsea supporters following his summer move to Stamford Bridge. However, the striker is still under scrutiny in Spain because of his poor performance with the national team.
The Blues hitman has been undoubtedly one of the most impressive arrivals in this year's Premier League. His adaptation to English football and Jose Mourinho's style has been excellent and the £32m Chelsea paid to Atletico Madrid for his services now seems a real bargain.
Costa took just 17 minutes to score his first goal for the Blues, in the Premier League opener against Burnley, and has since netted eight more in just seven Premier League games.
His impressive tally is actually just an extension of what he did last season at Atletico Madrid, where he netted 27 goals in 35 La Liga appearances to lead his side to the title.
The surprise, however, is his poor performance with the Spanish national team and the huge criticism he has received since his disappointing debut with Vicente Del Bosque's squad during a friendly game against Italy last year.
Some fans have started questioning his decision to represent Spain despite being born in Brazil, and the doubts only seem to continue.
Costa never went more than four straight games without scoring a goal for Atletico last season while at Chelsea he has scored in six of the seven Premier League games he has played, registering only one in the 1-1 draw against Manchester City .
However, the Spanish star has surprisingly failed to open his goal account for the national team after five games, including two in the World Cup.
Some pundits even made him a scapegoat for the rapid and unexpected elimination suffered by Spain in the Brazil World Cup, claiming his aggressive style does not fit properly into La Roja's tiki-taka philosophy.
Nevertheless, Costa still dreams about overcoming the situation and Del Bosque has decided to include him in the squad for Spain's European Championship Qualifiers against Slovakia and Luxembourg on 9 October, despite Mourinho's concerns about his fitness.
Del Bosque keeps trusting in him and Costa is expected to be handed a fresh opportunity to start on Thursday night to prove the Spanish doubters wrong.
Del Bosque and Costa's teammate Andres Iniesta have not any doubt he will take the opportunity.
"We would like to see Costa do with the national side what he is doing at Chelsea" Del Bosque said. "We are not worried about him because he is a regular goalscorer in his team and his league but we would also like to see him score goals for Spain.
"We will have a slightly new system from the one we had against Macedonia and we should have more of an offensive presence."
Meanwhile, Iniesta added: "It is not a big thing that he has not scored. I hope that goal comes sooner rather than later but the team gets together every month, not every week. He has to be relaxed because his play is spectacular. It is only a question of time before he gets a goal."