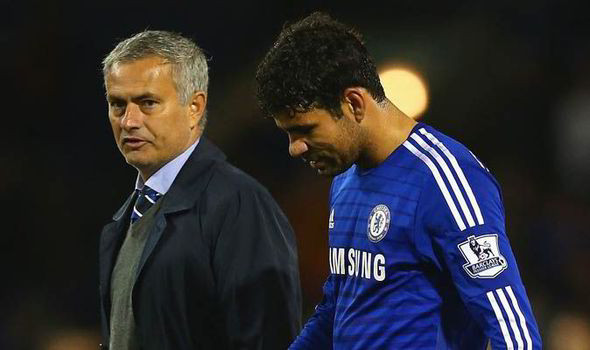 Diego Costa's injury debate continues after Chelsea manager Jose Mourino blamed Vicente del Bosque once again for the striker's latest fitness concerns. Speaking to IBTimes UK, Spain's National team doctor dismissed the accusations.
Despite an impressive start to the life in the Premier League, scoring nine goals in his first seven appearances, the 26-year-old striker has struggled with a hamstring injury which first suffered at the end of last season with Atletico Madrid – before going to the World Cup.
Mourinho said earlier in the season that Costa was unable to play more than once a week, but after he handed him three successive starting appearances against Aston Villa, Sporting Lisbon, and Arsenal, Del Bosque also decided to start him for the Spanish Euro 2016 qualifiers against Slovakia on 9 October, and Luxembourg three days later.
Costa has since missed the last three games for Chelsea against Crystal Palace, Maribor, and Manchester United.
Spain's' doctor Jose Garcia Cota told IBTimes UK last week that Costa didn't pick up an injury whilst on international duty, assuring the striker only had a very minor hassle in the groin and his recurrent hamstring injury looked to be behind him.
However, Mourinho has now reopened the debate, saying that Costa's stomach virus last week slowed the recovery, but blamed Spain for his injury concerns that prevented him from playing.
"The virus is fine. It was hard, he had to go to the hospital and obviously it doesn't help him to recover from his injury. But he didn't play on Sunday because of the injury, not because of the virus," he said, according to Sky Sports.
"Diego has the hamstring (problem) because he played two matches in three days (with Spain) when he was not with us."
The striker has already returned to training and may return for the QPR game on Saturday, but when asked whether he hoped Costa's injury problems were now over, Mourinho replied: "But he still has (to play for) the national team in November!"
In this sense, del Bosque has suggested that Costa will be included in Spain's squad for the Euro 2016 qualifier against Belarus on 15 November to continue his adaptation to the team.
"I believe that a player who plays great in his club - both Atletico Madrid and Chelsea - cannot be damaging to the national team," del Bosque said.
"I'm convinced that in the next matches he will settle in to the group. He will adapt to the group and the group will adapt to him."