Veteran US endurance swimmer Diana Nyad is poised to become the first person to swim the 103-mile (166km) journey from Florida to Cuba without a shark cage.
The 64-year-old looks set the swim on her fourth attempt having previously been forced to pull out because of jellyfish stings and bad weather.
Nyad confirmed this would be her last attempt to cross the treacherous Florida Straits without a shark cage.
An update on her official website said that she was just a few miles away and has already travelled a distance "never been close to achieved by any other human being before". She has already been swimming for more than 50 hours staright.
Doctors traveling with a team of Nyad supporters said her swollen lips and tongue were causing her speech to be slurred and they were worried about her breathing, but they have not intervened and believe she will be able to finish the swim.
However, the team have confirmed they have spotted large moon jellyfish for the first time. Nyad is wearing a custom-made mask to help protect her against jellyfish stings. She complained makes it difficult to breathe but would help her "get through those animals".
Her last attempt in August 2012 was forced to be postponed after 41 hours because of repeated jellyfish stings to her face.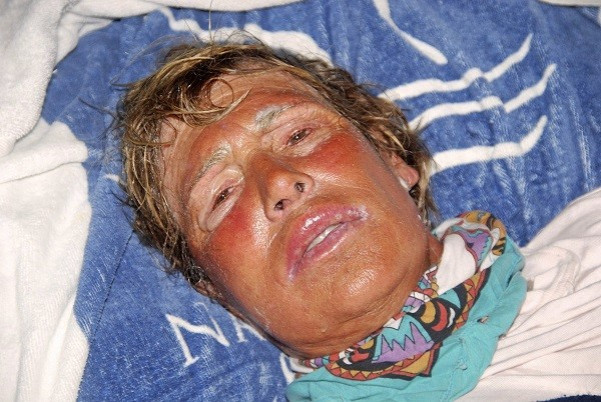 Speaking at a news conference in Cuba before she began her swim, Nyad confirmed this would be her final attempt.
She said: "It's been thrilling for me - it was 35 years ago, and it still is - to do something no-one else has done. It's all been worthwhile.
"But this time if I don't make it, I will stand tall and I say: 'I have nothing more to bring.'"
"I'm learning as I get older, and I'm really getting older now, that there's a fine line between having grace and letting go of something that you have no control over and you're just not going to beat, like Mother Nature maybe" she added.
In 2012, Australian Penny Palfrey swam 79 miles toward Florida without a cage before strong currents forced her to abandon the attempt. This June, fellow Australian Chloe McCardel swam for 11 hours and 14 miles before jellyfish stings ended her bid.