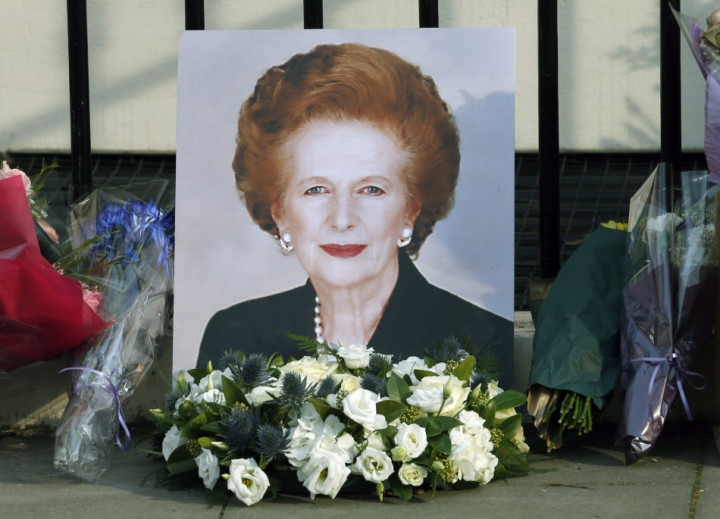 Punk song I'm in Love With Margaret Thatcher is making a late surge up the charts as the musical battle between supporters and opponents of the late Tory premier intensifies.
The 1979 number by band the Notsensibles stood at number 6 in the iTunes downloads chart on Saturday 13 April, with Ding Dong the Witch is Dead having been pushed to the number 1 spot by those celebrating the controversial former prime minister's demise.
The winner of the musical tussle will be revealed on Sunday evening, when the Official Chart Show on Radio One will play a selection of the top 40 best-selling singles.
The BBC has been faced with a quandary in the week since Thatcher's death, with many arguing the campaign for Ding Dong, from the 1939 film The Wizard of Oz, is insensitive and disrespectful, and urging the corporation not to play the song.
The BBC said it would play five seconds of the song alongside a news clip explaining why it had charted and discussing Thatcher's legacy.
In an interview with the Sunday Telegraph, former cabinet colleague Lord Parkinson said that Thatcher would not have been particularly upset about people celebrating her death because "she was convinced that was she was doing was the right thing for Britain".
He added: "She probably would have preferred to watch Songs of Praise or something but I don't think it would have upset her because when you are as strong a character as she is, you are going to create divisions. I don't mind people disapproving of her, but what I do object to is the idea that she personally destroyed industries."
However, he urged those planning to demonstrate at Thatcher's funeral on Wednesday to show respect.
"One of the joys of being British is that we are free to demonstrate and to show how we feel, and if people feel hostile or they want to express it, I think it's a pity. I think the dead are in a special category. The old Latin tag de mortuis nihil nisi bonum, 'Of the dead speak nothing but good,' can be overdone, but nevertheless I would hope people, if they express their disapproval, will do it in an agreeable way," he said.