Liverpool striker Dirk Kuyt interests Bundesliga side Hamburg, according to the club's coach Thorsten Fink.
The 31-year-old has a year remaining on his current deal at Anfield and has been heavily linked with a return to Feyenoord.
However, the German strugglers are ready to join the race for the Liverpool forward and Fink believes he could play a valuable role.
"He has class, and he is also a fighter. There is nothing more that needs to be said about the quality of this player. Whether this is something we feel we want to commit to, we will see," he toldBild.
"A player like Kuyt, who is still in good shape, can add something to any team. He is a real team player with an excellent attitude.''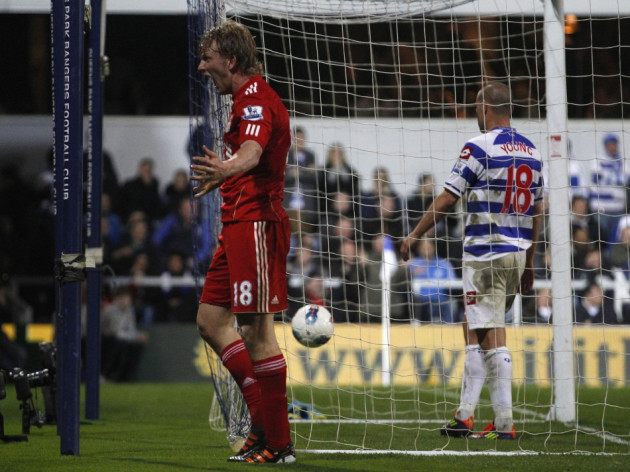 The Dutch international has made infrequent appearances for Liverpool since the double signing of Andy Carroll and Luis Suarez last January, and then of Jordan Henderson and Stewart Downing in the summer.
Kuyt has scored just five club goals this season, including in the Carling Cup final against Cardiff City, however having scored just two goals in the Premier League, the significance of his role is clearly decreasing.
He joined Liverpool in the summer of 2006 and has been a loyal servant ever since, helping the club to the Champions League final in his first season, scoring in a losing cause against AC Milan.
After being used as a central striker for the start of his career at Liverpool, Kuyt was moved to the right-hand side during the back end of Rafa Bentiez's tenure at the club, and built a reputation as a hard working midfielder.
Kuyt has previously been linked with a move back to Feyenoord this summer, with a coaching role possibly being offered as a carrot to bring him back to the Eredivisie.
The Reds' goalscoring problems this season could see them draft in a new striker, and Kuyt could envisage his opportunities becoming even more restricted, despite next season's European campaign meaning an increased amount of fixtures.