A British tourist who claimed she had been crippled with food poisoning on holiday saw a court throw out her compensation bid after social media pictures of the trip showed her in a bikini and sipping cocktails by the pool.
Marissa McLean complained "under-cooked, pink chicken" left her with "nausea and diarrhoea" during a four-star all-inclusive Thomas Cook holiday to Sharm el-Sheikh in Egypt in 2015.
The healthcare assistant from of Redditch, Worcestershire brought a claim against the holiday giant saying poor hygiene at her hotel left her "trotting back and forth to the toilet" – but at the time she boasted on Facebook that she was in "paradise".
Judge Nadeem Khan at Worcester County Court branded her claim "fundamentally dishonest", adding that her evidence was "neither plausible or credible".
He ruled against her compensation bid, and allowed the tour operator to recover the legal costs it had spent fighting the case.
McLean was ordered to pay £2,812 within 21 days, and refused leave to appeal.
This case follows a number of occasions where travel firms have taken holidaymakers to court over what they consider to be bogus bids for compensation over food poisoning in a move to stem the sharp rise in claims across the industry.
Earlier, the court in Worcester was shown social media pictures of McLean posing in a white bikini with the caption "little selfie before the pool party", just hours after claiming she had seen a resort doctor.
In another snap, she was shown with a glass of rum and coke, captioned: "pacing myself", despite saying she had been left unable to drink alcohol.
McLean, said she had been left with "horrible stomach pains" but still managed to endure a 90-minute coach ride to the coast, in time for a yacht trip.
Impress ex-boyfriend
She then posted a social media video with the caption: "VIP luxury yesterday - damn I am going to miss this luxury."
Days later, another photograph showed her at the wheel of the yacht, with the caption: "Captain Marissa, in charge of the boat".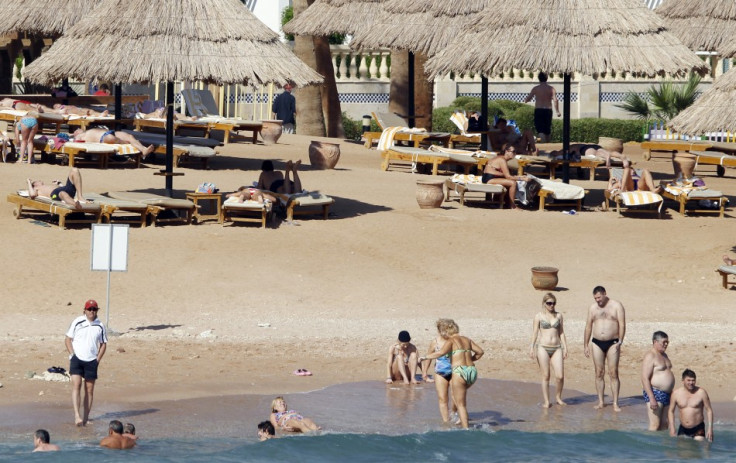 The 27-year-old claimed the posts were to make an ex-boyfriend back in the UK jealous.
But the judge at Worcester County Court said: "I don't accept the claimant's view that they present a false account for an ex-boyfriend.
"I don't find the claimant's account truthful."
Miss McLean, who flew out from Birmingham for the six-day holiday with a female friend, told the court: "I wanted it to look like I was having a good time."
But Ian Denham, representing the tour operator, said there was "a vacuum of evidence" about her case.
Under cross-examination, Miss McLean, a healthcare assistant, said: "Well I wasn't going to put online how I was really feeling."
She added: "The captain was persistent and kept asking to let him take a picture.
"I was feeling ill on the boat and had diarrhoea."
She claimed to have seen a resort doctor, referred to as "Dr Tariq Mustafa", but Thomas Cook said it had been unable to trace him.
Rise in food poisoning claims
An independent medical expert Dr Martyn Evans, asked to assess Miss McLean, stated: "The symptoms are compatible with gastroenteritis from food poisoning as a result of poor handling or hygiene at the hotel."
But it emerged Dr Evans based his report on a telephone assessment only, with Judge Khan describing its findings as "flawed".
Outside court, McLean said the judgement against her was "wrong".
Last month a couple who made up claims about falling ill on holiday have been ordered to pay just under £4,000 in legal costs, to Thomas Cook.
Julie Lavelle and her partner Michael McIntyre attempted to claim £10,000 in damages after they said they contracted food poisoning on their two-week trip to Gran Canaria in 2013, but a Liverpool court branded them "fundamentally dishonest".
Travel sickness claims from British tourists have jumped 500% over the last three years, according to the industry body that represents 1,200 UK tour operators, Abta.
It said tens of thousands of holidaymakers had made claims in the past year – worth between £3,000 and £5,000 each – despite reported sickness levels in resorts remaining stable.
Hoteliers in Portugal and Spain say they have been particularly badly hit and are threatening to stop offering all-inclusive holidays to Britons, the body added.
Fake claim cases usually involve holidaymakers on all-inclusive deals, who argue that because they only ate in their hotel, that must have been the source of their alleged food poisoning.
Abta has warned that travel insurance could rise for all holidaymakers, in the same way fake 'whiplash' claims pushed up car insurance a few years ago.