The world's leading consumer drone manufacturer, DJI, has quietly updated its geofencing software to prevent people from flying its drones across many areas in Syria and Iraq, presumably to prevent extremists like Islamic State (Isis) from weaponising unmanned aerial vehicles (UAVs).
DJI's Go app is a companion mobile app used to control its flagship line of Phantom quadcopter drones. As previously reported, Go contains a geofencing system called 'GEO' that sends drone pilots real-time information about temporary flight restrictions, as well as cautions about flying drones in restricted areas around airports, prisons and power plants.
If a user tries to get a DJI drone to take off in a restricted area, the drone will refuse, to the extent that the Chinese drone manufacturer now has to deal with tons of paperwork from companies requesting exemptions to the rule – such as companies inspecting aircraft for structural problems at airbases.
Kevin Finisterre, of US-based anti-drone technologists Department 13, tracks no-fly zones around the world. After noticing that DJI had updated the Go app, he contacted the Register and created an open access Google Earth map so that anyone can see where the no-fly zones are located.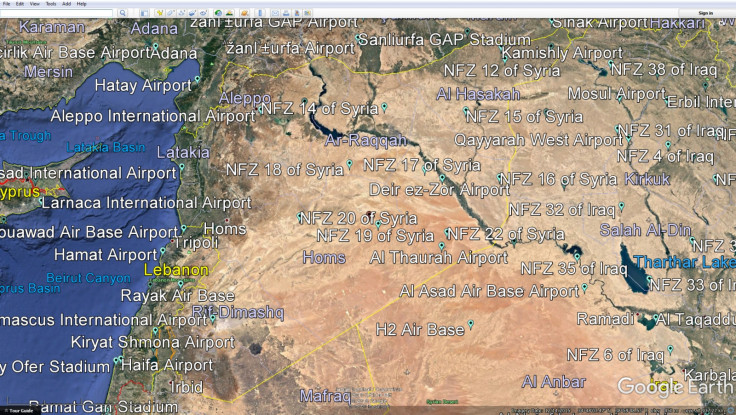 The new no-fly zones in Syria and Iraq were added to the software between 25-27 February, which was around the same time that US-backed Iraqi military units were mounting an offensive against Isis in Mosul.
A glance at the map (which you can download by right-clicking this link, saving to your computer and opening the file in the Google Earth software program) shows that large chunks of Syria are now no-fly zones, from its airports and air bases all the way down to civilian areas. This would seem to indicate that DJI may have been pressured by the US and Nato into preventing terrorists from using drones as a tool of war.
A DJI spokesperson told IBTimes UK: "DJI makes products purely for peaceful purposes, which is how the overwhelming majority of pilots use them, and we deplore any use of our drones to bring harm to anyone. Our geofencing system is designed to advise pilots of airspace restrictions, and was never intended to enforce laws or thwart people who want to misuse our products.
"Certain areas vital for aviation safety or national security are marked as restricted in our geofencing system, and we are constantly adjusting those areas to account for temporary conditions that create special restrictions, such as wildfires and major public events."
In 2016, the Pentagon issued warnings that Isis was starting to use drones, after an incident in Israel where Israeli police, customs border control and other security agencies intercepted multiple shipments of UAVs being sent into Gaza for Hamas.
And in January, Isis formally announced that it was establishing a new "Unmanned Aircraft of the Mujahideen" unit that would consist of drones modified and equipped with bombs. The extremists claimed that its UAVs succeeded in wounding and killing 39 Iraqi soldiers in just one week.
The US military has long been concerned with the danger of drones, to the extent that it carried out a military exercise using drones fitted with semiautomatic weapons against some tanks, and the drones won the battle.