Iraq has taken its fight against Isis to Syria for the first time as its ground troops make gains in the jihadist-held area of western Mosul.
Iraqi Prime Minister Haider al-Abadi announced the airstrikes in a statement on 24 February. He explained the operation was in response to recent bombings in Baghdad claimed by the Islamist group and linked to the militants' operations in Syria, the Associated Press reported.
A source close to the Syrian foreign ministry told Reuters the airstrikes were carried out in coordination with the Syrian government.
Al-Abadi said the strikes hit the towns of Boukamal (also known as Abu Kamal), in eastern Syria just across the border from Iraq, and in Husseibah, an Iraqi town west of Baghdad where Isis retains some territory.
An Iraqi air force commander, who spoke on condition of anonymity because he is not authorised to speak to reporters, told the Associated Press the bombings were carried out with F-16 warplanes at dawn and "were successful".
Iraqi ground troops are also attacking the jihadists in the northern Iraqi town of Mosul, which fell to Isis in 2014. An operation to liberate Iraq's second city, which is divided in two sides by the Tigris river, began on 17 October.
After liberating the eastern side of the city on 18 January, a new phase of the offensive was announced a month later to free the more densely-populated side of the city, where around 750,000 civilians live under Isis.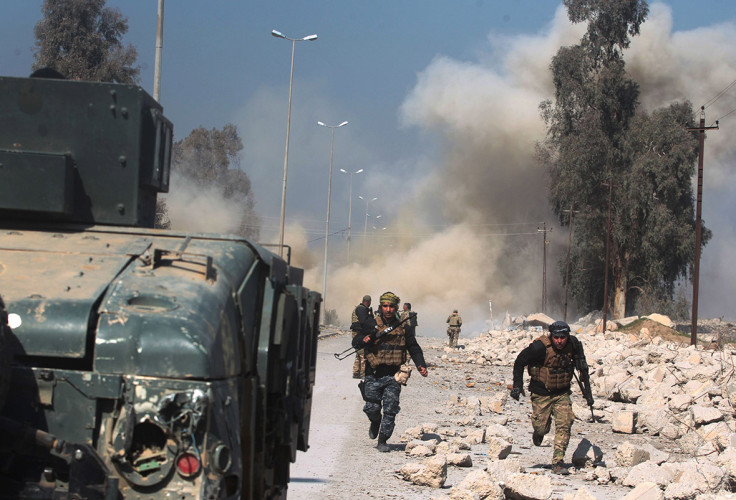 The Iraqi troops, supported by the US-led international coalition and Shia militias known as the Popular Mobilisation Forces, pushed into the Mamun neighbourhood in western Mosul after recapturing the city's airport in the southwestern part of the city and a military base in a fierce battle with the jihadists on 23 February. It is not known how many soldiers, if any, died in the battle as the Iraqi military does not release official casualty information.