Djokovic praises big effort made by Kim Sears to help Murray reach world no 1
Andy Murray also talks about his evolving relationship with Novak Djokovic.
Novak Djokovic believes that Andy Murray's wife Kim Sears deserves credit for the Scot's recent success at reaching world number 1. The Serb says that Kim may have made a bigger effort than Murray this year after she gave birth to their first child following the 2016 Australian Open.
The Scot overtook the Serb as the top ranked men's singles player on the ATP Tour following the Paris Masters in November this year, and went to secure the year-end world number one status following his triumph over defending champion Djokovic in the summit clash of the ATP World Tour Finals in London.
"She has to get some credit, guys. She gave birth this year. He has traveled all over the place. I know how it is with my wife, Jelena, what she had to go through as a mother back home with a little baby. So Kim: Well done. She's maybe made even a bigger effort than Andy," Djokovic said following the conclusion of the year end tournament, as quoted by tennis.com
Murray, meanwhile, has reiterated that he shares a cordial relationship with Djokovic despite being main rivals on the ATP Tour. Rafael Nadal and Roger Federer's recent struggle with form and fitness, has kept the tennis icons out of competition.
The Scot and Serbian are of the same age and came up through the tour together. Their first professional on court encounter was at the 2006 Madrid Masters which Djokovic won in three sets. They have since played each other 35 times with the Serb leading 24-11.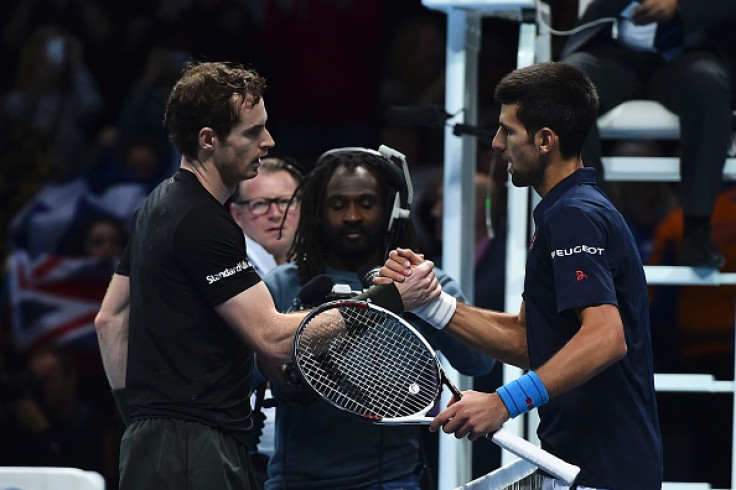 Murray and Djokovic have also met in 17 Tour level final including seven in Grand Slam tournaments where the latter again leads, but it is closer at 10-8. The duo have dominated the 2016 season and the Scot has finally achieved his dream of capturing the world number one ranking, which has been held by the Serb since November 2012.
The 29-year-old, who became a father earlier this year, revealed that the two top ranked players now have more in common after Djokovic welcomed his first child with wife Jelena Ristic in 2015.
"We chatted at length this year quite a lot because, obviously, I became a father the first time. We spoke about the difficulty in keeping the sort of balance in your life, with the family and the traveling and the work and everything. It's not always easy when you're playing on court in the biggest matches with a lot at stake, but we've always got on well," Murray said, as quoted on Tennis.com
"I think both of us have been with our now-wives a long time, pretty much since we were like 18, 19 years old. We met each other's wives together at that age, as well. We've known each other a very long time. Regardless of what some of you may think, we have a good relationship," the world number one added.
© Copyright IBTimes 2023. All rights reserved.