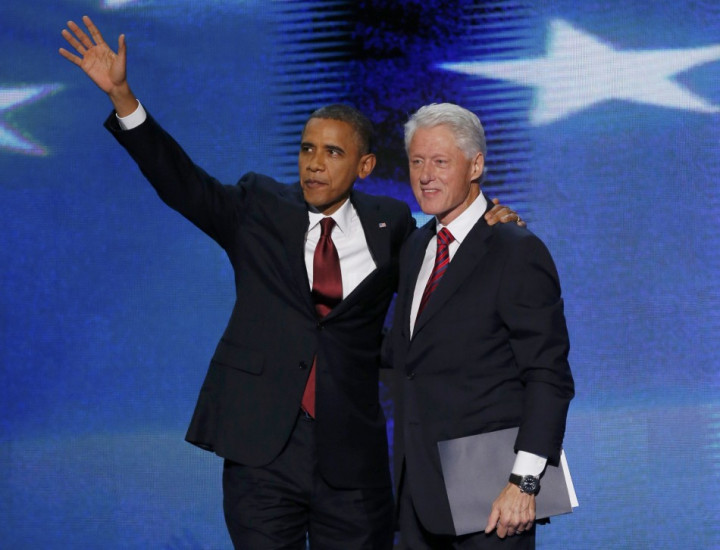 Former US president Bill Clinton has officially nominated Barack Obama as the Democratic nominee for the forthcoming presidential election, and said he cannot be blamed for the economic woes of the country.
"I want Barack Obama to be the next president of the United States. And I proudly nominate him to be the standard-bearer of the Democratic Party," Clinton said.
At the Democratic Convention in Charlotte, North Carolina, Clinton argued that Obama's economic policies were a success considering the fact that he took office during a period of extreme economic turbulence.
"He inherited a deeply damaged economy, put a floor under the crash, began the long hard road to recovery and laid the foundation for a modern, more well-balanced economy," Clinton said.
"No president - not me or any of my predecessors - could have repaired all the damage in just four years. But conditions are improving and if you'll renew the president's contract you will feel it."
US jobless rates were over 8 percent for more than 42 months, the longest period of such a rate since the end of the Second World War.
Clinton produced a series of statistics in defence of the president's economic record, telling his audience:
"In 2010, as the president's recovery programme kicked in, the job losses stopped and things began to turn around. The recovery act saved or created millions of jobs and cut taxes - let me say this again - cut taxes for 95 percent of the American people. And, in the last 29 months, our economy has produced about four-and-a-half million private sector jobs."
Referring to Republican Senate leader Mitch McConnell's earlier comments that the number one priority of Republicans was to get Obama out of office, Clinton said: "We're going to keep President Obama on the job."
Obama joined Clinton on the stage towards the conclusion of his address. Though the two are not known for their close relationship, they hugged each other in front of a cheering crowd.
A day before Clinton's address, Michelle Obama addressed the convention and urged attendees to give her husband a second term.